17 September 1977: Willie Fennell and Louise Howitt (Kirby's Company)
17 September 1988: Ironman Grant Kenny and Annie Jones (Neighbours)
17 September 1994: Lisa McCune (Blue Heelers)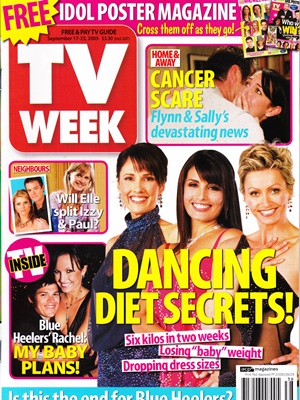 17 September 2005: Chris Bath, Ada Nicodemou, Nicky Buckley (Dancing With The Stars)
---
17 September 1956: The second day of regular transmission from TCN9, Sydney, starting with a new nightly religious talk, Give Us This Day, followed by the station's first news bulletin, presented by Chuck Faulkner (pictured) — TV At 60: TCN9, Australia's first channel [2016]
17 September 1987: Darling Downs Telecasters, owner of DDQ10 Toowoomba, purchases Brisbane channel TVQ0 from Christopher Skase for $123 million, and announces plans to convert its new station to the Channel 10 frequency.
17 September 1988: The opening ceremony of The Games Of The XXIV Olympiad from Seoul, South Korea. Network Ten, covering its second consecutive Summer Olympics, scheduled more than 15 hours of coverage each day of competition.
17 September 1990: Andrew Denton presents a new show, The Money Or The Gun, on ABC – described as a "documentary/chat/comedy show where the real meets the surreal."
17 September 2006: Seven presents the 3-hour special TV Turns 50: The Events That Stopped A Nation, hosted by David Koch and Melissa Doyle and an all-star guest list as they count down the top 20 moments from 50 years of Australian television, as voted by the general public.

YouTube: ABC TV & iview
17 September 2009: ABC1 screens the documentary Skippy: Australia's First Superstar, paying tribute to the classic TV series that ran from 1966 to 1969 and put Australia onto TV screens worldwide — YouTube: Revisiting Skippy [2008], Skippy turns 50 [2016]