17 July 1976: Daryl Braithwaite
17 July 1976: Justine Saunders (Number 96)
17 July 1993: Gavin Harrison and Kym Wilson (A Country Practice)
17 July 1999: Alan Fletcher and Nicola Charles (Neighbours)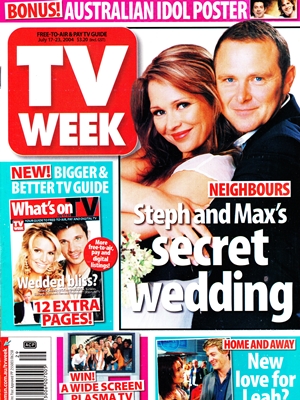 17 July 2004: Carla Bonner and Stephen Lovatt (Neighbours)
---
17 July 1963: GTV9's In Melbourne Tonight presents a special edition — In Yallourn Tonight — hosted from Kernot Hall in the regional town of Yallourn in Gippsland.
17 July 1977: The Sunday night movie was a highlight of the viewing week. Tonight's line-up includes Flight Into Holocaust, A Fistful Of Dollars and the local TV premiere of the classic The Sound Of Music.
17 July 1993: Garry McDonald, Rebecca Smart, Susan Lyons and Judy Morris star in the series return of Eggshells (ABC).
17 July 1995: David Reyne and Tracy Grimshaw (pictured) host the debut of the new-look Midday (Nine)