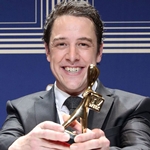 Actor Samuel Johnson last night won the Gold Logie for Best Personality On Australian Television at the 59th annual TV Week Logie Awards.
Johnson, whose voice has adorned countless commercials for everything from burgers to mobile telephones to radio stations, won the accolade on the back of his portrayal of Ian 'Molly' Meldrum in the mini-series Molly.
It's the first time in Logies history that a Gold has been won solely for a mini-series role.
Johnson, who also won a Silver Logie for Best Actor, dedicated his win to his sister Connie, who has been battling cancer for most of the past 30 years. The pair set up a charity, Love Your Sister, to raise funds for cancer research.
Johnson's acceptance speech became hijacked by the man who he portrayed in the mini-series. Meldrum, now 74, was brought up to the stage to present Johnson with a gold version of his trademark hat — but got caught up in recalling some old anecdotes, about Johnson amongst other things. His speech became littered with various colourful words and lots of ironic, as well as unintentional, umms and errs. For a night of little controversy it was a rather awkward moment, particularly as others were physically attempting to wind up his tribute to Johnson. Given that it was a late night, and Meldrum suffering a brain injury following his fall from a ladder which nearly claimed his life a couple of years ago, he could be forgiven.
Molly also collected the Logie for Best Drama.
Fellow Gold Logie nominees Waleed Aly and Jessica Marais both won Silver Logies — Aly for Best Presenter and Marais for Best Actress.
Network Ten scored a number of awards despite its perennial third placing in the ratings. Have You Been Paying Attention? won Most Outstanding Entertainment Program and Best Entertainment Program.
Gogglebox Australia, a joint venture between Ten and Foxtel, won Best Factual Program, and The Project won Best News Panel Or Current Affairs Program.
The Living Room, which recently celebrated 200 shows, won Best Lifestyle Program.
Actor Rob Collins, from Ten's The Wrong Girl and ABC's Cleverman, picked up the award for Best New Talent.
It was a big night for ABC and Foxtel. The national broadcaster collected awards for Please Like Me for Most Outstanding Comedy Program, and Little Lunch: The Nightmare Before Graduation for Most Outstanding Children's Program.
Please Like Me star Debra Lawrance won the award for Most Outstanding Supporting Actress, and Barracuda star Elias Anton picked up the Graham Kennedy Award For Most Outstanding Newcomer
Actor Damon Herriman, who rose to fame in the 1980s as a child star in The Sullivans, won Most Outstanding Support Actor for the role of transgender female Kim Gordon in the political drama Secret City. Co-star Anna Torv won Most Outstanding Support Actress.
Four Corners won the Logie for Most Outstanding Public Affairs Report for "Australia's Shame", its investigative piece on the treatment of child inmates in Northern Territory's youth detention centres.
The documentary Conviction, which re-traced the solving the brutal murder of Melbourne woman Jill Meagher, won Most Outstanding Documentary.
Apart from the Gold Logie, the biggest accolade of the evening was the TV Week Logie Awards Hall Of Fame, which inducted Kerri-Anne Kennerley.
Kennerley has a career dating back to children's television in Queensland in the late 1960s, including hosting The Saturday Show in the 1970s (pictured). She progressed up to performing and had a brief acting role in the soapie The Restless Years.
In the early 1980s she took over as co-host of the Network Ten program Good Morning Australia. It was a job that she was to hold for 11 years, outlasting a number of male co-hosts.
She then went to the Nine Network, where she commanded a loyal audience in the revival of Midday in the mid-1990s and went on to present Mornings (later Kerri-Anne) for nine years.
Despite her longevity, Kennerley has never won a Logie but had been nominated for the Gold a number of times.  In her acceptance speech she paid tribute to her mum and to her husband, John, who was severely injured in an accident last year but was able to attend the awards.
The four-hour Logies telecast includes performances by overseas stars James Blunt and Andy Grammer and local artists Casey Donovan and Jessica Mauboy.
Tony Martin paid tribute to the recently departed comedian John Clarke, and Larry Emdur gave a speech about legendary producer, the late Reg Grundy.
The Project's Peter Helliar and Offspring star Kat Stewart offered one of the few truly comedic performances of the night with their parody of the infamous "jacketgate" incident that went viral a few months ago. Hamish Blake and Andy Lee also sent up Nine's Marriage At First Sight by "matching up" members of the Logies audience.
Dave Hughes once again opened the Logies presentation with a comic routine that was largely well-received but this correspondent felt it was a bit rough — and too long.
Former Young Talent Time stars Tina Arena and Dannii Minogue were reunited on stage while recalling their own TV debuts in the junior talent series over 30 years ago.
Other presenters on the night included Dan Wyllie, Ben Fordham, Rebecca Maddern, Erik Thomsen, Alex Dimitriades, Claudia Karvan, Delta Goodrem, Carrie Bickmore, Leigh Sales, Liz Hayes, Sam Pang, Ita Buttrose, Rachel Griffiths, Pamela Rabe, Shane Jacobson, Edwina Bartholomew, Miranda Tapsell, Mandy McElhinney, Ben Mingay, Todd Sampson and a special guest appearance by Lorrae Desmond, the first female Gold Logie winner back in 1962.
Despite the Logies getting a ratings increase in 2016, this year its numbers fell again. In the overnight preliminary numbers (5 cities, OzTAM), the TV Week Logie Awards was watched by 972,000. The numbers will no doubt be adjusted to take into account the half an hour that the awards went overtime. The TV Week Logie Awards Red Carpet Arrivals was watched by 864,000 viewers.
The Seven Network's My Kitchen Rules topped the night's chart with 1,260,000 viewers. With such intense competition, the best that Ten could muster up was Modern Family on 332,000.
The Nine Network won the night's ratings with a share of 35.4%, followed by Seven (33.9%), ABC (14.4%), Ten (9.9%) and SBS (6.3%).
Public-voted Awards:
TV WEEK GOLD LOGIE – Best Personality On Australian TV
• Samuel Johnson (Molly) (Channel Seven)
BEST ACTOR
• Samuel Johnson (Molly) (Channel Seven)
BEST ACTRESS
• Jessica Marais (Love Child/The Wrong Girl) (Nine Network/Network Ten)
BEST PRESENTER
• Waleed Aly (The Project) (Network Ten)
BEST NEW TALENT
• Rob Collins (Cleverman/The Wrong Girl) (ABC/Network Ten)
BEST DRAMA PROGRAM
• Molly (Channel Seven)
BEST ENTERTAINMENT PROGRAM
• Have You Been Paying Attention? (Network Ten)
BEST NEWS PANEL OR CURRENT AFFAIRS PROGRAM
• The Project (Network Ten)
BEST REALITY PROGRAM
• The Block (Nine Network)
BEST SPORTS PROGRAM
• The NRL Footy Show (Nine Network)
BEST LIFESTYLE PROGRAM
• The Living Room (Network Ten)
BEST FACTUAL PROGRAM
• Gogglebox Australia (Foxtel – LifeStyle/Network Ten)
Industry-voted Awards:
GOLD LOGIE — Hall Of Fame
• Kerri-Anne Kennerley
GRAHAM KENNEDY AWARD FOR MOST OUTSTANDING NEWCOMER
• Elias Anton (Danny Kelly, Barracuda, ABC)
MOST OUTSTANDING DRAMA SERIES
• A Place To Call Home (Foxtel – Showcase)
MOST OUTSTANDING MINI-SERIES OR TELEMOVIE
• The Kettering Incident (Foxtel – Showcase)
MOST OUTSTANDING ACTOR
• Henry Nixon (Fergus McFadden, The Kettering Incident, Foxtel – Showcase)
MOST OUTSTANDING ACTRESS
• Anna Torv (Harriet Dunkley, Secret City, Foxtel – Showcase)
MOST OUTSTANDING SUPPORTING ACTOR
• Damon Herriman (Kim Gordon, Secret City, Foxtel – Showcase)
MOST OUTSTANDING SUPPORTING ACTRESS
• Debra Lawrance (Mum, Please Like Me, ABC)
MOST OUTSTANDING ENTERTAINMENT PROGRAM
• Have You Been Paying Attention? (Network Ten)
MOST OUTSTANDING COMEDY PROGRAM
• Please Like Me (ABC)
MOST OUTSTANDING CHILDREN'S PROGRAM
• Little Lunch: The Nightmare Before Graduation (ABC ME)
MOST OUTSTANDING SPORTS COVERAGE
• Rio 2016 Olympic Games (Channel Seven)
MOST OUTSTANDING NEWS COVERAGE
• "Sky News Election Coverage 2016" (Sky News, Sky News/Foxtel)
MOST OUTSTANDING PUBLIC AFFAIRS REPORT
• "Australia's Shame" (Four Corners, ABC)
MOST OUTSTANDING FACTUAL OR DOCUMENTARY PROGRAM
• Conviction (ABC)
Source: TV Week
Data © OzTAM Pty Limited 2017. The Data may not be reproduced, published or communicated (electronically or in hard copy) in whole or in part, without the prior written consent of OzTAM.
Program performance and ranking information subject to change when not based on final program logs.