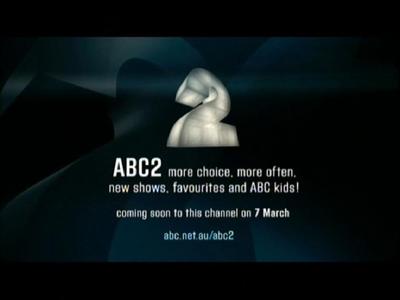 ABC's secondary channel ABC2 turns 10 years old today.
The new channel came two years after ABC had been forced to axe its previous digital channels ABC Kids and Fly TV due to budget cuts.
ABC2 launched in a rather low key manner on the morning of Monday, 7 March 2005. Anyone watching to see the launch at 6.30am were left to view a test card (pictured) before the channel finally triggered into the scheduled screening of Landline several minutes in (at the 7:18 mark in the video below).

YouTube: TelevisionAU
At the time there were fairly rigid restrictions on what these secondary channels (which at the time only ABC and SBS could operate) could broadcast. Anything resembling "general entertainment" was deemed off limits, possibly as a concession to the commercial and pay TV networks by restricting competition. As a result, ABC's early schedule consisted largely of timeshifted programming from the main ABC channel, with programs sometimes repeated twice or more in the same day; a dedicated block of children's programming; and archived episodes of shows like Gardening Australia and Australian Story. But despite the restriction on "entertainment" some concert specials were allowed to be shown.
The restrictions on the secondary channels were soon lifted, and ABC2 was allowed to present a broader program schedule. The channel has since evolved into a younger demographic option of ABC programs in prime time, while ABC Kids occupies the channel space during the daytime.
Some of the programs commissioned for ABC2 over the years have included Australia Wide, Triple J TV, The Hack Half Hour, Good Game, ABC News Breakfast (later shifted to ABC) and Late Night Legends.
ABC2. Monday 7 March 2005
6.30am Landline (Rpt)
7.30 Insiders (Rpt)
8am Inside Business (Rpt)
8.30 Seven Days (Rpt)
9am Asia Pacific Focus (Rpt)
9.30 Australian Story Classics
10am ABC2 Kids
3pm Gardening Australia (Rpt)
3.30 A Place In France
4pm Landline (Rpt)
5pm Australia Wide
5.30 At The Movies (Rpt)
6pm Speed Racer/The Tribe
7pm Landline (Rpt)
8pm A Place In France (Rpt)
8.30 Australia Wide
8.45 At The Movies (Rpt)
9.15 Landline (Rpt)
10.15 A Place In France (Rpt)
10.45 Studio 22
11.15 Close