Rebekah's country comfort
Former Home And Away star Rebekah Elmaloglou, returning to TV in a guest role in A Country Practice, says that her time out of regular employment has been a good learning experience. "Unemployment is one hell of an ego-basher," she told TV Week. "I've now been through what a lot of my friends are experiencing and I won't take employment for granted ever again."  Her guest role in A Country Practice is due to hit screens in October. "All I can tell you is my character's name is Christine Agapitos. She's a 20-year-old Australian/Greek who has a big romance with Gavin Harrison's character, Hugo Strzelecki," she told TV Week.
John cops out in the country
Former Rafferty's Rules star John Wood leads the cast in a new pilot being developed for Seven. Blue Heelers, a production of Hal McElroy and Southern Star, tells the story of two young city cops suddenly transferred to a country town. "It's the culture clash of the young versus old, city versus the bush, plus the contrasts between their new approach to policing and the old-style country coppers, that provides the dramatic foundation of the stories each week," producer Hal McElroy told TV Week. Also starring in the pilot are Grant Bowler and Lisa McCune.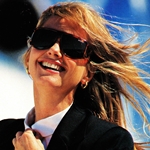 Livvy walks in on Paradise
Producers of Nine's Paradise Beach have finally convinced Olivia Newton-John (pictured) to make a cameo appearance in the series which stars her husband, Matt Lattanzi.  The brief appearance, filmed at Coolangatta airport last month, coincides with Lattanzi's exit from the series as his character, photographer Cooper Hart, departs on an overseas assignment.
Briefly…
ABC has commissioned a 13-part drama series about a lowly but ambitious clerk's struggle to survive the Australian public service. The Damnation Of Harvey McHugh stars newcomer Aaron Blabey in the title role. The cast also includes Monica Maughan, Roger Oakley and Philip Quast.
Sky Trackers is a 26-part children's series now in production for the Seven Network. The series stars Steve Jacobs (not to be confused with Steven Jacobs from All Together Now), Anna Maria Monticelli, Paul Sonkkila, Marco Chiappi, Petra Jared and Zbych Trofimiuk. Jacobs (pictured) plays Tony Masters, a world famous astrophysicist who lives with his son (Trofimiuk, pictured) at a space tracking station in an Australian wilderness park.
The Nine Network has denied rumours that Midday host Ray Martin will be making a move to prime-time in the near future.  Nine says that Martin will continue with Midday until at least the end of this year but will be hosting Nine's coverage of the announcement of the 2000 Olympic Games from Monte Carlo. He will also host Carols By Candlelight again at Christmas.
Nine Network chief Bruce Gyngell was recently spotted having discussions with Westside Productions, producer of E Street, about plans for a new drama series, but Gyngell is said to be reluctant about embarking on a new project when Nine is already committed to Paradise Beach — a series that is giving them some problems.
Lawrie Masterson: The View From Here
"The demise of the long-running A Country Practice is not just the end of a television era, but the opening of a fascinating scenario. According to the official word from Seven, the creator of the series, James Davern, is working on a new show that also is set in the mythical location of the soap, Wandin Valley. So who will be left from the original? Will life in the Valley still revolve around the doctors and nurses of the local hospital? And, most important, after having their beloved ACP taken from them, will the devotees really care?"
Program Highlights (Melbourne, August 22-28):
Sunday: Talk To The Animals (6.30pm, Seven) presents a special two-hour episode. With The Ashes Sixth Test (8.30pm, Nine), a two-hour episode of Beverly Hills 90210 (7.30pm, Ten) and mini-series The Boys Of St Vincent (9.30pm, Ten), the only Sunday night movie is Too Hot To Handle (Seven).
Monday: Mary Kostakidis hosts the preview of Worldwatch (7am, SBS), the new line-up of international news bulletins received via satellite. In Home And Away (7pm, Seven), Greg (Ross Newton) goes into a rage when Adam (Mat Stevenson) admits his responsibility for Bobby's (Nicolle Dickson) death. In A Country Practice (7.30pm, Seven), Terence's (Shane Porteous) son Chris (Peter Phelps) returns to Wandin Valley with his son Jack (Joshua Kam), and panic takes hold when Terence suspects Jack has malaria.
Tuesday: After Monday's preview Worldwatch (7am, SBS) makes its debut with news bulletins from Germany, China, Russia and the US.  In All Together Now (8pm, Nine), Bobby (Jon English) prepares for a school reunion.  In GP (8.30pm, ABC). William (Michael Craig) is caught in the middle of a siege at the Ross Street surgery.
Wednesday: Youth current affairs returns with a new series of Attitude (9.30pm, ABC).
Thursday: In Home And Away (7pm, Seven), Summer Bay pays its final respects to Bobby (Nicolle Dickson), despite a possible disaster when Adam (Mat Stevenson, pictured near right) turns up at the funeral. In Police Rescue (8.30pm, ABC), tension between Angel (Steve Bastoni) and Mickey (Gary Sweet) is at crisis point in the squad.
Friday: In The Great Outdoors (7.30pm, Seven), Cameron Daddo takes Frankie J Holden on a special tour of the northern NSW coastal town of Yamba; Ted Egan begins a four-day Red Dirt trip into Kakadu National Park; and Bridget Adams goes on a camel safari at Noosa, Queensland.
Saturday: In Eggshells (8pm, ABC), Frank (Garry McDonald) and Jill (Susan Lyons) are planning a party to announce their engagement and are not letting anyone stop them.
Source: TV Week (Melbourne edition), incorporating TV Times and TV Guide. 21 August 1993.  Southdown Press.