Newlywed at last
Actress Annie Jones is finally going to be a TV bride as her Newlyweds character Allie Carter marries Peter Roberts (Christopher Gabardi). Starring in Neighbours for three years, Jones was engaged on screen twice but in both instances the wedding never happened. In the mini-series Jackaroo, her character was engaged to Jack Simmonds (David McCubbin) but the series didn't go through to depict the wedding.  "I've been a bridesmaid on TV so many times, but never the bride," Jones told TV Week. "I've done so many publicity shoots for weddings I've been in!"
Funnier than Melbourne
Montreal's Just For Laughs comedy festival is the star attraction for Andrew Denton's upcoming documentary special The Money Or The Gun On The Road: The Funniest City In The World — and he declares that Montreal is "funnier than Melbourne", although notes that Montreal has imported much of its talent. "They did import a whole lot of American and British people," Denton (pictured) told TV Week. "It's absolutely unfair — Melbourne is all home-grown genius." The special features comedians Lily Tomlin, Jerry Lewis, Ben Elton, Rita Rudner and Australian Flacco.  The special airs on ABC this week.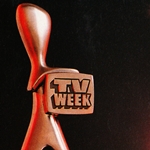 Hot Shoe Logies!
The cast of stage hit Hot Shoe Shuffle, featuring David Atkins, the Tap Brothers, Rhonda Burchmore and Jack Webster, will be the headline act at the upcoming TV Week Logie Awards, to be held on 19 March at the Grand Hyatt, Melbourne. The Logies will also include a guest appearance by sisters Hayley and Juliet Mills, both coming to Australia to star in a season of Noel Coward's Fallen Angels. The 35th annual TV Week Logie Awards will be hosted by Good Morning Australia's Bert Newton and broadcast on Network Ten.
Briefly…
The Nine Network is working hard to try and impress Graham Kennedy in the hope that he will agree to host some In Melbourne Tonight specials and appear in a prime-time interview with Ray Martin. For his recent 59th birthday Kennedy was flown by helicopter from his rural NSW property to Sydney's TCN9 boardroom for a special birthday luncheon.
Andrew McKaige, formerly of Skyways and Sons And Daughters and currently living in the US, is coming back to Australia for a role in Nine's new soap Paradise Beach. Meanwhile, while Paradise Beach is tipped for a 5.30pm timeslot, there are whispers that Nine may be considering scheduling the series in prime time.
Some cast departures could be coming to Ten's E Street.  Don't be surprised if Kelley Abbey quits the series in the near future and there are also suggestions that Simon Denny will soon follow. Meanwhile, former E Street cast member Marianne Howard has knocked back an offer to return to the series to reprise her role as Alice.
Expatriate Pamela Stephenson (pictured) has signed up to host the first five episodes in the second series of Sex. Stephenson replaces Sophie Lee who is currently in New Zealand working on mini-series Typhon's People. She will be presenting the first two episodes from studios in Los Angeles before coming to Sydney, where husband, comedian Billy Connolly is touring, to complete the series. She applauds Nine's bravery in producing such a frank and candid discussion of sex. "It's brave for Channel Nine to have done it, very timely, and I'm proud that Australia did it first," she told TV Week.
Sandra McLean: The View From Here
"Readers who watched last year's Phoenix will know how lucky they were to witness such good television.  But I can tell you this is no exclusive club — anyone can tune into Phoenix 2 and be privvy to 13 hours of excellent drama. Those who don't will be committing a major crime against the cause of first class drama. And they won't have another chance next year — the ABC says there definitely won't be a Phoenix 3."

Pictured: Simon Westaway, Sean Scully, Stewart McCreery and David Roberts in Phoenix.
Program Highlights (Melbourne, March 7-13):
Sunday: Kerry O'Brien is moderator of The Great Debate (7.30pm, ABC) between Prime Minister Paul Keating and Leader of the Opposition Dr John Hewson. Sunday night movies are We're No Angels (Seven), Toy Soldiers (Nine) and The Dream Team (Ten).  ABC extends its program schedule to 24 hours, 7 days a week.
Monday: Seven has live coverage of the Moomba Masters water skiing (1.00pm) from the Yarra River, Melbourne, with commentators Peter Landy and Ian Faulkner. In A Country Practice (Seven, 7.30pm), Tom (John Concannon) and Anna (Anne Looby) risk losing Billy (Jamie Croft) when his paternal grandparents come to stay.
Tuesday: In All Together Now (8.00pm, Nine), Thomas' (Steven Jacobs) efforts to win over Jodie (Radha Mitchell) seem to have finally paid off. In GP (8.30pm, ABC), Julie (Denise Roberts) falls for someone who turns out to be Tessa's (Marilynne Paspaley) old lover.
Wednesday: In Hey Dad! (7.30pm, Seven), Jenny (Angela Keep, pictured) returns from boarding school and decides she doesn't want to go back. And in Newlyweds (8.00pm, Seven), nothing goes right in the wedding rehearsal. Ten presents the two-and-a-half hour US special Oprah Winfrey Talks To Michael Jackson And Friends (8.30pm), with the pop king's first 'no-holds-barred' interview in almost ten years. Andrew Denton covers the Just For Laughs International Comedy Festival in the 90-minute special The Money Or The Gun On The Road: The Funniest City In The World (8.30pm, ABC).
Thursday: With coverage of the Federal Election on Saturday, Hey Hey It's Saturday is shifted to Thursday for this week. The special three-hour program (7.30pm, Nine) includes live crosses to Elton John in concert at the Sydney Entertainment Centre.  Crime drama Phoenix returns for its second series (8.30pm, ABC).
Friday: In The Great Outdoors (7.30pm, Seven), Andrew Ettinghausen continues his survival course in the Blue Mountains, Ernie Dingo catches up with underwater adventurer Ben Cropp, and Penny Cook takes part in a celebrity golf tournament.
Saturday: The evening is dominated by coverage of the Federal Election results. Andrew Olle and Kerry O'Brien host The Verdict (6.30pm, ABC) with analysis by Andrew Peacock, Gareth Evans, Bob McMullin, Peter Costello and Andrew Denton.  ABC's coverage is followed by Call Of The Board (10.30pm) providing a seat-by-seat analysis of the election. Judgement Day (6.30pm, Nine) is hosted by Ray Martin with commentators Laurie Oakes, Senator Graham Richardson, Michael Kroger and Bob Hawke. Network Ten has five-minute election updates throughout the evening with a one-hour report, Election '93, at 10.30pm. With live coverage of the semi-final match in the Foster's Cup (8.30pm), Seven's election coverage is limited to a half-hour report, Poll '93, from 11.00pm.
Source: TV Week (Melbourne edition), incorporating TV Times and TV Guide.  6 March 1993.  Southdown Press.