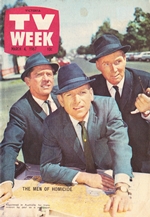 It was on this day — 20 October — in 1964 that Homicide made its debut.
Homicide was not the first Australian-made drama on television, but it was significant in that it popularised Australian TV drama at a time when our television stations were more prone to purchasing cheap overseas content for prime time.
With Homicide, for the first time Australian viewers were able to see stories played out on prime time TV with their own suburban backdrops and with their own accents.  The success of Homicide sparked a wave of Australian television drama production, creating many jobs for Australian actors and production staff and created a television production empire for producer Hector Crawford.
The first episode of Homicide went to air on 20 October 1964 at 7.30pm on HSV7 Melbourne.  Titled 'The Stunt', it featured pop star Ian Turpie as a university student who is shot dead while staging a mock bank hold-up.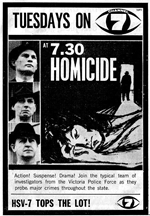 The success of Homicide for the Seven Network led to Crawford Productions producing long-running police dramas for the other two commercial networks, with Division 4 for the Nine Network and Matlock Police for the 0-10 Network.
Division 4, Matlock Police and Homicide were all cancelled during 1975 — sparking suspicion that the three networks were working together to bring down the Crawford empire as a result of its campaign for more Australian content on television.
Homicide's final episode went to air on HSV7 in January 1977.  Thirty years later Australian TV drama had come full circle with the Seven Network launching a new police drama — City Homicide — though it only ran for four years.
Soon, almost 50 years after its debut, Homicide is being released on DVD by Crawfords Australia.  The first batch of 26 episodes are due to be released in November.  This follows Crawfords' earlier release of other dramas The Sullivans and The Flying Doctors on DVD.
Other upcoming DVD releases from Crawfords include the 1979 telemovie The John Sullivan Story, a spin-off from The Sullivans featuring Andrew McFarlane, and the first 26 episodes of the 1920s-themed drama Carson's Law, starring Lorraine Bayly.
Details of all current Crawfords DVD releases can be found at their website.