Ballroom blitz!
Paul Mercurio, star of the box office hit Strictly Ballroom, is currently on a whirlwind tour of the United States and United Kingdom to promote the film.  He laughs at the comparisons made from American journalists that liken him to other actors that have starred in dance-themed movies, such as Patrick Swayze and John Travolta.  "I'd say to them that John Travolta was the Seventies, Patrick was the Eighties and I'm the Nineties," he says.  "If it goes that way, great, but I sort of get embarrassed when people go on about me being a star."  Mercurio, the son of ex-professional boxer turned actor Gus Mercurio, is the subject of an SBS documentary to go to air this week.
The key to summer success
MTV host Richard Wilkins is set to host a new game show, Keynotes, to replace Sale Of The Century over the summer months.  Wilkins won the audition over other applicants including singers Patrick McMahon and Denis Walter and Melbourne radio presenter Craig Huggins.  Keynotes is to be produced at the studios of GTV9, Melbourne, and if it proves popular over summer it may continue in a late afternoon timeslot once Sale returns.
Press gets a new face
The success of interview program Face The Press on SBS has prompted Network Ten to launch its own version.  Meet The Press, hosted by ATV10 newsreader David Johnston (pictured), debuts this week after the Sunday night movie.  "It will be fairly heavily political," he told TV Week.  "But, for example, if Jason Donovan or a sports star of national recognition comes home, then we'll do them on the show."  The show will allow Johnston the chance to renew his former interviewing skills.  "I do miss my interviewing days.  We do have the occasional live cross during Eyewitness News, but it's only a quick grab.  Interviewing is part of the business which gives me a lot of satisfaction.  It keeps the brain going."
Briefly…
E Street is about to kill off the character of Reverend Bob.  The dramatic exit comes after actor Tony Martin apparently asked for more money, and producers chose to write him out instead.  The character's exit is set to screen in the new year.  Meanwhile, former Number 96 and Cop Shop star Joanna Lockwood is joining the cast of the ailing series.
Having just announced a $70.1 million profit, management of the Seven Network have decided to pay each staff member a bonus of $701.
Former Neighbours star Kristian Schmid (pictured) has been forced to quit his new job as a presenter on British television after just one appearance.  The Department of Employment declared that Schmid was taking work away from a local and as a result he has had to walk away from BBC1's Saturday morning Going Live program.  Although Schmid has a work visa for pantomime work in the UK, this does not extend to TV presenting work.  "I think the British Government has a downer on Australians working here after (Prime Minister) Mr Keating shouted his mouth off about wanting Australia to be a republic," Schmid's London publicist said.  He is now appealing the Department's decision.
Fast Forward's Pixie Anne Wheatley (Magda Szubanski) proved to be an interesting fishing buddy for fellow Seven Network personality Rex Hunt, host of Rex Hunt's Fishing World.  After a few quick lessons, Pixie Anne declared Rex to be "a fantastic fishera, angelera and tugger".  "I had a little trouble casting off, but once I got the hang of it, I became a good cast away," she told TV Week.  "I caught a fish but that was when I cast off backwards, hooked a fish on the bank and accidentally threw it back into the water."
Neighbours celebrates its 1800th episode this week.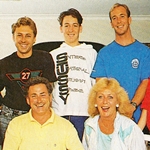 Lawrie Masterson: The View From Here
"Back in July, before it had its premiere,  I said here that I felt Sylvania Waters had "the potential to be far more interesting and entertaining — not to mention credible — than them all", the "all" being the plethora of soaps littered around the networks.  Some people — although, from the ratings figures, it was not an overwhelming number — agreed with that and, for them, Sylvania Waters became addictive.  As the weeks slid by, I drifted away from my original opinion and the show itself, to the point where even the office gossip about it started to irritate me.  What was more interesting was the sideshow which sprung up and eventually stole the spotlight from the original attraction.  For goodness sake, we even had our deputy prime minister, Brian Howe — obviously with nothing more pressing on his agenda that day — weighing in with his opinion on Noeline Baker Donaher's eating, drinking and gambling habits."
Loose Talk
"When I see myself on tele I think, 'He's definitely 35 and had a couple of cocktails'." — James Reyne, Burke's Backyard (Nine).
"I don't believe my calendar is about pornography." — Elle Macpherson, A Current Affair (Nine).
"Come the republic, Noeline (Donaher) will be on the stamps." — Barry Humphries, Lateline (ABC).
Program Highlights (Melbourne: October 25-31):
Sunday:  ABC's arts program Sunday Afternoon With Peter Ross is presented from Brisbane with special guests author Hugh Lunn and actress Diane Cilento.    Sunday night movies are Arachnophobia (Seven), Quick Change (Nine) and The Secret Of My Success (Ten).
Monday:  SBS documentary series Masterpiece presents Paul Mercurio — Life's Burning Desire, focusing on the man behind the Strictly Ballroom image — the doting husband and family man, the daredevil rollerblade fan and the imaginative choreographer and athletic dancer.
Tuesday:  In Beyond 2000 (Seven), Simon Reeve tests his tennis skills against the likes of Lendl, Stich, Chang and Agassi, Tracey Curro introduces the good guys of the bacteria world, and Dr John Darcy investigates drugs in the workplace.
Wednesday:  In Hey Dad! (Seven), the Kelly household becomes infested with mice.  ABC presents the one-hour special Legends In Cabaret, featuring performances by June Bronhill, Lorrae Desmond, Kerrie Biddell and Jill Perryman.  SBS newsreader Mary Kostakidis hosts the Ethnic Business Awards from Sydney.
Thursday:  Gia Carides guest stars in Police Rescue (ABC).  In Neighbours (Ten), Lou (Tom Oliver) is stunned by Madge's (Anne Charleston) decision regarding her future.  Hey Hey It's Saturday's Molly Meldrum presents the half-hour special Madonna Uncovered, including an interview with pop star Madonna.
Friday:  Ten presents live coverage of Game Two of the NBL Mitsubishi Challenge Grand Final.
Saturday:  Ten has live coverage throughout the afternoon of Derby Day, the first event of the Melbourne Cup Carnival.
Source: TV Week (Victoria edition), incorporating TV Times and TV Guide. 24  October 1992. Southdown Press.