Cover: Rebekah Elmaloglou (Home And Away)
The jury back in on Sir Joh
The aborted perjury trial of the former Premier of Queensland, Sir Joh Bjelke-Petersen, is to be recreated in a telemovie to be produced by Southern Star and ABC.  The role of Sir Joh is to be played by comedian Gerry Connolly.  The production will also feature Noah Taylor, Rebecca Rigg and John Clayton.  "We are not in any way attempting to put Sir Joh on trial again," a spokesperson for Southern Star told TV Week.  "We are simply showing what happened to the jury during and after the trial."
Strictly television!
Paul Mercurio, star of the hit Australian film Strictly Ballroom, is to feature in upcoming specials on both ABC and SBS.  Mercurio is one of seven choreographers chosen to stage and perform The Seven Deadly Sins — Dance, to complement the upcoming ABC drama series Seven Deadly Sins.  He will also be the focus of a documentary, Paul Mercurio — Life's Burning Desire, to screen on SBS in October.  The special looks at the formation and first work from Australian Choreographic Ensemble (the dance company former by Mercurio and his wife Andrea Toy) as well as the life and goals of the actor/dancer.  Strictly Ballroom has grossed $4.6 million in its first four weeks of release in Australia and has scored 13 nominations in the AFI Awards, to take place in October.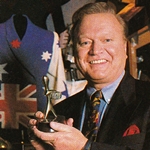 Bert hits the big Four-0
As he celebrates 40 years in showbusiness (he started in radio in 1952), Bert Newton (pictured) insists he's never been happier.  As host of Network Ten's New Faces and The Morning Show, Newton is a key player in "rebuilding" the network's fortunes after a period of unrest.  "You can't hide from the fact that Ten is in the process of rebuilding, but I think we will rebuild into a formidable network," Newton told TV Week.  "The plan they've got is very exciting and it's nice to be a part of that."  It's a rapid comeback for Newton after a disappointing year that saw his bid to gain control of Melbourne radio station 3AK fall through.  "It's all behind me now.  I can hold my head high.  I had a crack at something I believed in… it didn't come off but that was last year," he said.
Andrew hits back at magazine
Actor Andrew McFarlane (pictured), best known from series including Division 4, The Sullivans, Patrol Boat and The Flying Doctors, has expressed anger over an interview published in a gay men's magazine where he says comments regarding his private life have been misquoted and taken out of context.  "The (magazine) Outrage interview has grossly distorted what I said to the journalists concerned and I am greatly distressed that an inaccurate picture has been presented to the public," he said in a statement from his lawyers.  "Not only am I misquoted, but answers as reported in the Outrage article were to different questions than printed."  The interview as featured in the magazine was then followed up by reports in some Australian newspapers.
Briefly…
A mistimed 'punch' while taping a scene of this week's episode of Bony saw Cameron Daddo's fist connect firmly with the chin of guest star Andrew Clarke.  The unexpected blow to the chin resulted in a loud crack and then an apology from Daddo.  "Oops, sorry mate!" he said to his guest star.  "That's OK, mate — hardly felt a thing," Clarke replied.
TV Week reports that not only will Jana Wendt be missing from A Current Affair in the new year, but her rival Stan Grant may also be missing from the host's seat on Seven's Real Life following less than brilliant ratings.  Grant, a former ABC reporter, was hailed as a great find by producer Gerald Stone — the man who created 60 Minutes and helped groom Wendt to a successful career.  It is not known if Grant will be kept on at Real Life as a reporter.  Meanwhile, Stone is overseeing a top secret pilot for another new current affairs program for Seven.
Following recent reports that all three commercial networks are vying for the rights to cover Elle Macpherson's upcoming promotional tour of Australia, it now seems that the battle is moving to within the Nine Network.  A Current Affair believed it has the nod from Macpherson's management, but now 60 Minutes is chasing her attention as well.
The Seven Network has intervened and stopped Ten's Kerri-Anne Kennerley from doing a showbiz segment on Larry Emdur's breakfast radio show on Sydney's 2UW.  Seems that Seven didn't like its host of The Main Event promoting a Network Ten personality.  It now looks like Seven's Eleven AM showbiz reporter Basia Bonkowski will be taking on the role for Emdur's radio show.
Lawrie Masterson: The View From Here
"Somewhere deep within our innermost selves, we are all supposed to secretly love being frightened out of our wits.  It must true of some people, otherwise Stephen King would be just another struggling author.  But, personally, I can live without having the hell scared out of me.  So it was with some trepidation that I took home a preview tape of King's It, which will screen on the Seven Network in two-hour instalments.  King devotees — and I know you are out there en masse — will love it, but for me it fell down with a David and Goliath confrontation (slingshot included) towards the end and the corny resolution of some unfinished personal business between several of the core characters."
Program Highlights (Melbourne, September 27-October 3):
Sunday:  ABC and Nine both have live coverage of the Winfield Cup Grand Final from the Sydney Football Stadium.  SBS music program The Noise, hosted by Annette Shun Wah (pictured), has a special one hour episode to celebrate its sixth birthday.  Ten's New Faces With Bert Newton presents a special junior talent quest.  Sunday night movies are Dick Tracy (Seven), Gremlins 2: The New Batch (Nine) and Kickboxer (Ten).
Monday:  In Healthy Wealthy And Wise (Ten), Jacki MacDonald talks to John Hawkins about different types of grass that can be used for decorative purposes, Jim Brown discovers the importance of radio communication when four-wheel driving in the bush, and Lyn Talbot visits Mildura.
Tuesday:  In Beyond 2000 (Seven), Iain Finlay reports on new designs in space suits, Simon Reeve enjoys a very different shopping experience, and Tracey Curro strolls around a zoo with a difference.  Actor Max Cullen guest stars in GP (ABC).
Wednesday:  In Neighbours (Ten), Julie (Julie Mullins) is all set for the arrival of Philip's (Ian Rawlings) son, Michael (Troy Beckwith) for the school holidays and is pleasantly surprised when some of their past rivalry seems to have diminished.  In Hey Dad! (Seven), Betty (Julie McGregor) is determined to win the Secretaries' Olympics.
Thursday:  Gia Carides guest stars in Police Rescue (ABC).  In Getaway (Nine), Jeff Watson sees the sunset at the Pinnacles in Western Australia and visits a cheese factory in Bega, NSW; David Reyne visits Broken Hill and Anna McMahon goes twilight sailing in Sydney.
Friday:  The series final of late night show Andrew Denton: Live And Sweaty (ABC).
Saturday:  Afternoon sport includes skiing, netball and women's basketball on ABC and live coverage of the Queensland Open tennis on Ten.  Saturday night includes coverage of the Victorian State Election:  Mary Delahunty, Andrew Olle and Ian Henderson hosting three-and-a-half hours on ABC from 6.30pm; Election updates throughout the evening on Seven culminating in a one-hour special The October Showdown — Election '92 from 10.45pm, presented by Jennifer Keyte; Melbourne Extra host John Jost leading Nine's coverage from 8.30pm; and Election updates throughout the evening on Ten.
Source: TV Week (Melbourne edition), incorporating TV Times and TV Guide. 26 September 1992.  Southdown Press.