Brides revisited!
Two years since they starred together in ABC's Brides Of Christ, Lisa Hensley and Kym Wilson are colleagues once again, with Hensley guest starring in A Country Practice, playing the part of troubled barmaid Michelle Carson.  The opportunity to work together again has been fun for the pair.  "It's great," Wilson told TV Week.  "Lisa is one of my best friends, but we have both been so busy we haven't been able to spend much time together.  To meet up on ACP is great.  We have a lot of scenes together and share a lot of private jokes that go back to our Brides days.  It's like we're schoolgirls again."
Stormy waters
Soap opera weddings never go smoothly, and it seems that the same applies to ABC's "documentary serial" Sylvania Waters with the wedding of Paul and Dione.  Some sage advice from a neighbour to Paul ("Just don't listen to (stepfather) Laurie and (mother) Noeline after you get married… don't let your in-laws or your parents interfere with your marriage and you'll always have a good one.") could cause a rift.  Then tensions rise as the celebrant fails to turn up in time for the ceremony, leaving a teary bride demanding to know his whereabouts.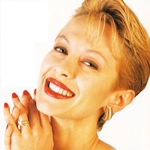 We'll be back in a flash!
Wheel Of Fortune star Adriana Xenides (pictured) has been caught in an embarrassing blooper.  A fast twirl on the set during a recent taping revealed a little bit more than was intended, but the incident wasn't noticed until it was too late to do a reshoot.  The episode with the scene in question will go to air but with the word "oops" superimposed to save Xenides any further embarrassment.
Briefly…
Almost a year after her abrupt departure from E Street, Melissa Tkautz and producer Forrest Redlich have patched up their differences.  Tkautz is now signed on to reprise her role of Nikki Spencer, making her on-screen return early in 1993.  Redlich's company Westside Records is also set to resume managing Tkautz's music career.
Chances star Gerry Sont (pictured) is quitting the series, but his role of Cal Lawrence will be taken over by John Atkinson in episodes to air from late October.  Sont is believed to be taking on a role in the stage production of The New Rocky Horror Show.
Former Prisoner star Maggie Kirkpatrick is expected to star in a new soap opera pilot to be produced for the Nine Network later this year or early next year.  Also tipped for the new project are former Saturday At Rick's presenters Tania Lacy and Hali Gordon.
The plug may have been pulled mid-way through the recent screening of Australia's Naughtiest Home Video Show, but the Nine Network has had calls from video companies wanting to release the unedited show commercially.
GP star Tracie Sammut, who has down's syndrome, has brought home three gold medals and one silver from the recent Special Olympics in Brisbane.  The 13-year-old plays the role of Donna Browning, one of Dr Korkidas' (Marilynne Paspaley) three children in the ABC series.
Lawrie Masterson: The View From Here
"The latest story doing the rounds is that someone with a lot of clout at Channel Nine phoned in one recent Thursday night and yelled: 'Three cheers for Australia's Naughtiest Home Videos!'.  And that's exactly what he got — three episodes of Cheers."
Program Highlights (Melbourne, September 20-26):
Sunday:  Afternoon sport includes the VFA Grand Final (ABC), the Preliminary Final of the Winfield Cup (direct coverage on Nine and later highlights on ABC) and the World Cup Qualifier between Australia and Tahiti (SBS).  Sunday night movies are Taking Care Of Business (Seven), Another 48 Hours (Nine) and Class Action (Ten).  ABC presents the one-hour special Songs Of Innocence, featuring thirteen children from nine Melbourne families who share their often painful experiences of growing up.
Monday:  In Healthy Wealthy And Wise (Ten), Jim Brown visits Cockatoo Island, Ronnie Burns looks at how to buy duty free goods, and Ross Greenwood explains all about warranties and guarantees.  Seven crosses to the Southern Cross Hotel, Melbourne, for live coverage of the Brownlow Medal Count, hosted by Bruce McAvaney.  ABC presents a one-hour review of the Melbourne International Festival which this year has a strong Latin flavour, featuring the arts of Spain and South America.
Tuesday:  Nine debuts the second series of children's drama The Girl From Tomorrow.  In the 150th episode of GP (ABC), William (Michael Craig, pictured) is less than happy when Steve (Michael O'Neill) is quoted in the local newspaper as giving the pro-legislation argument on the heroin debate.
Wednesday:  ABC presents The Dark Side, the second installment of David Goldie's documentary Without Consent, exploring why men rape and looks at the dynamics of male and female relationships and their potential for violence.
Thursday:  Tabloid current affairs program Hard Copy (Ten) celebrates its first birthday with a special two-hour edition.
Friday:  British game show Sticky Moments On Tour (ABC) presents an Australian-themed edition, featuring camp host Julian Clary in a specially-designed sequinned pantsuit, vaguely reminiscent of the Sydney Opera House, tastefully trimmed with blowfly-repellent hanging corks.  Seven presents its annual overnight Football Marathon on the eve of the AFL Grand Final, featuring memorable matches from the past 25 years of Aussie Rules football.
Saturday:  Seven's coverage of AFL Grand Final day continues, with the traditional Grand Final Breakfast (8.00am), the State League Under 18s Grand Final (9.00am) and State League Seconds Grand Final (11.00am) before the main event, the AFL Grand Final (2.00pm) at the MCG between the season's top two teams, Geelong and West Coast Eagles.
Source: TV Week (Melbourne edition), incorporating TV Times and TV Guide. 19 September 1992.  Southdown Press.