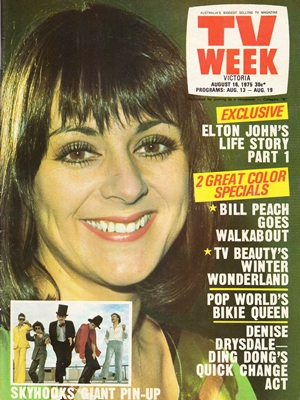 16 August 1975: Denise Drysdale (The Ernie Sigley Show)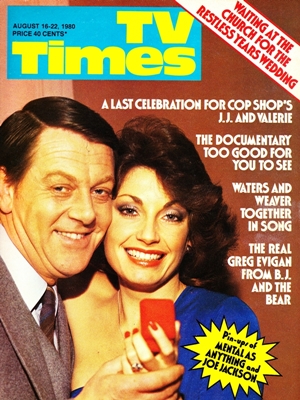 16 August 1980: Peter Adams and Joanna Lockwood (Cop Shop)
16 August 1980: Lionel Williams (It's A Woman's World)
16 August 1997: Nicola Charles (Neighbours)
16 August 2008: Mark Priestley and Jolene Anderson (All Saints)
---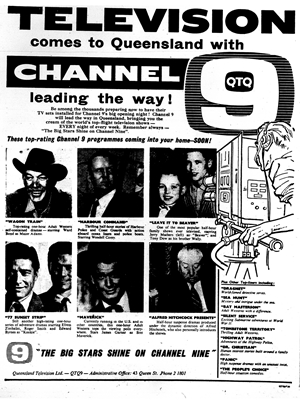 16 August 1959: Brisbane becomes the first Australian city outside of Sydney and Melbourne to get television, with QTQ9 commencing transmission — TV comes to Brisbane [2019]
16 August 1968: Commercial station BKN7 is officially opened in Broken Hill. The local channel joins ABC, which began transmission in the remote mining town in 1965. BKN was originally due to open on 9 August, but had to be postponed at the last minute due to technical difficulties.
16 August 1980: Years before the east coast show came to Adelaide, NWS9 had its own version of Hey Hey It's Saturday, featuring cartoons Deputy Dawg, Dastardly And Muttley, Dyno-Mutt, Cool McCool, Scooby And Scrappy Doo, Hey It's The King, Archie, Ghost Busters and The Clue Club.
16 August 1982: On the fifth anniversary of the death of Elvis Presley, Seven has the 1970 movie Elvis That's The Way It Is.
16 August 1984: Brisbane's QTQ9 presents the second part of its 25th anniversary celebration with a one-hour special Twenty Five Years Of Nine. The special followed the five-hour broadcast the previous Sunday.
16 August 1993: Viewers in Darwin had only two channels, with ABC and commercial channel NTD8. The latter featured programming from all three capital city networks. SBS was still several months away. Imparja Television covered Alice Springs and remote outback areas.
16 August 2002: By now Darwin had expanded to having four channels, including Seven Darwin and SBS. NTD8 has a full line-up of sport, with AFL, Richmond v Hawthorn, from the MCG, followed by delayed coverage of the NRL, Bulldogs v Parramatta Eels. While SBS on the 25th anniversary of the death of Elvis Presley has the documentary Elvis Presley — The Sun Sessions.
16 August 2006: The Seven Network launches the game show The Master, hosted by Mark Beretta. Contestants had the potential to win a $1 million prize. Poor ratings saw the show taken off air after its debut episode, with the remaining episodes aired over the summer non-ratings season.