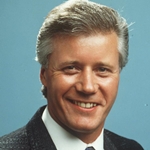 Former Brisbane reporter and newsreader Rob Readings has died at the age of 79 after a long illness.
Over the course of his career, he worked in radio and at all three Brisbane commercial channels, but most notably as newsreader on Eyewitness News at TVQ0/10 in the 1980s and as newsreader for Nine's Gold Coast news bulletin from when it debuted in 1996 through to his retirement.

YouTube: Australian TV Fan
He also anchored Network Ten's Olympic Games coverage in 1984. He was the presenter to "sign-off" TVQ0 just before it changed frequency to TVQ10 in September 1988, and a reporter for Nine's Brisbane-based lifestyle program, Extra.

YouTube: RIEGS-TV
Source: Nine News