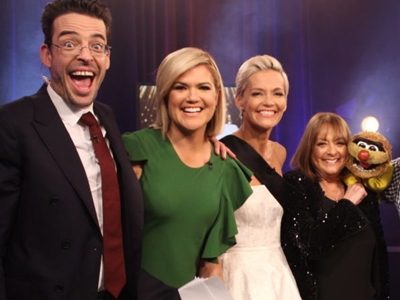 Studio 10 will be presenting a re-run of its special episode commemorating 60 years of Australian television.
While the Seven, Nine and ABC networks have all but swept their respective 60th birthdays under the carpet with barely a mention, Studio 10 put together a three-and-a-half hour tribute to Australian television, remembering many of the famous faces and programs that have graced our screens across various networks.
The program originally went to air on 16 September, the day of the 60th anniversary of the launch of Australia's first TV station — TCN9 in Sydney.
Hosts Sarah Harris, Joe Hildebrand, Jessica Rowe, Denise Drysdale and Ita Buttrose were joined by special guests including Tony Barber, John Burgess, Greg Evans, Jamie Dunn and Agro, Holly Brisley, Rove McManus, Paula Duncan, Lynda Stoner, Maggie Kirkpatrick, Don Burke, Graeme Blundell and John Mangos.
The show also reunited Studio 10 presenter Jonathan Coleman with former TV and radio colleague Ian 'Dano' Rogerson.
If you need something to watch while recovering from Christmas Day, this is something to tune in for, for either the first or second time.
Studio 10: 60 Years Of Television. Monday 26 December, 8.30am. Network Ten.