Cover: Melissa George (Home And Away)
'I was crying every night'
Joining the cast of Neighbours was meant to be a dream come true for Brisbane actress Emma Harrison. Instead, she became desperately homesick and struggled with the pressure of the high profile publicity that comes with being in the long-running soap. "For six months I was very down and lonely," she told TV Week. "Things were hard and I was under a lot of stress that really took its toll. I'd call my mum crying every night, but she told me to hang in there and reminded me that it's not easy for everyone." Despite initial concerns of working alongside Kimberley Davies, the pair did become good friends. "I'd never met Kimberley before and she'd been built up to be this beautiful, glamorous star. Also, I suppose it was scary that I was cast as Kimberley's sister. But we became friends and developed a great working relationship. I learned a lot from her." Now that her contract has been renewed, Harrison is feeling much more comfortable in herself and her work. "Last year was really testing, but it's made me stronger."
Dieter's dramatic final scenes
Home And Away's Dieter Brummer (pictured) makes his final appearance in the series in emotional scenes going to air this week. The episode sees his character Shane decide to organise a celebration lunch for his pregnant wife, Angel (Melissa George), and her son, Dylan (Corey Glaister), as a surprise for their first wedding anniversary. But during the picnic at a scenic lookout, Shane collapses and stops breathing. The emotional episode marks an end to Brummer's four-year run in the series — but fans won't have to wait long to see him back on TV. Brummer is to begin work soon on Foxtel's new soap opera parody Shark Bay. He is also set to host Foxtel's weekend cartoon show, Future Active.
Blood, tears and Sweat!
Network Ten hopes to strike gold with its new teen sports drama, Sweat. The $5 million 13-part series is currently in production in Perth and features Martin Henderson (Echo Point), Tai Nguyen (Heartbreak High), Melissa Thomas (Brides Of Christ, E Street) and newcomer Heath Ledger. Henderson (pictured), who plays the part of swimmer Tom Nash, is full of admiration for the real-life sports stars who commit their lives to competition. "The hours they put in, up-and-down, up-and-down… I admire them and respect them," he told TV Week. "I've never swum properly in my life and I was a bit nervous about that coming into the role. We've had lessons to get our style right. Tom is a great role. He's always been a jet in the pool, a winner, and he has an arrogance about that." To maintain authenticity on screen, body doubles are used for some of the swimming scenes. Sweat is expected to debut around mid-year, before the start of the Atlanta Olympic Games.
Colin patrols the small screen
Colin Friels (pictured) may have worked more in films, but his career is taking a turn with the leading role in Nine's new series Water Rats. "People attach a certain stigma to doing television," he told TV Week. "I never have. Actors are actors as far as I'm concerned. I've seen some of the worst acting in my life on $89 million budget films, and I've seen some wonderful acting in a $100,000 video."
Briefly…
Santo Cilauro and Frontline Productions are following Prime Minister Paul Keating on the election trail for a documentary to screen on ABC later this month.
Industry rumours suggest that Network Ten is looking at the possibility of bringing its failed soap Echo Point back to life. The network is believed to have asked producers Southern Star Xanadu to look at the logistics in re-starting production. Suggestions of Echo Point's return indicate that all might not be well with Neighbours, which has struggled in ratings this year.
Melissa Jaffer, who this week makes her first appearance as the new doctor in GP, says that her character is one of the most powerful she has undertaken. "When you get to my age it is quite a privilege to be offered such a job," she told TV Week. "I honestly didn't believe that role would go to a woman. I, like everyone else, am conditioned to think such a role would go to a man."
The US pilot F/X, starring Cameron Daddo, has been given approval to go into a series and may move production to Australia, to the Warner-Roadshow studios on the Gold Coast. F/X is set to broadcast on independent stations in the US and on the Seven Network in Australia.
TV's Top 20 (Week Commencing 11 February 1996): 
| | | | | |
| --- | --- | --- | --- | --- |
| Rank | Program | Network | Day(s) | Viewers |
| 1 | 60 Minutes | Nine | Sun | 2209000 |
| 2 | ER | Nine | Thu | 1907000 |
| 3 | Blue Heelers | Seven | Tue | 1900000 |
| 4 | JAG | Seven | Mon | 1872000 |
| 5 | The Simpsons | Ten | Wed | 1838000 |
| 6 | Lois & Clark The New Adventures Of Superman | Nine | Tue | 1749000 |
| 7 | Movie: The Client | Nine | Sun | 1736000 |
| 8 | A Current Affair | Nine | M-F | 1680000 |
| 9 | National Nine News | Nine | M-F | 1646000 |
| 10 | National Nine News | Nine | Sun | 1633000 |
| 11 | The Nanny | Ten | Sun | 1591000 |
| 12 | Hudson Street | Ten | Sun | 1584000 |
| 13 | The X Files | Ten | Wed | 1550000 |
| 14 | Burke's Backyard | Nine | Fri | 1535000 |
| 15 | Grace Under Fire | Seven | Thu | 1523000 |
| 16 | Better Homes And Gardens | Seven | Tue | 1504000 |
| 17 | The Best And Worst Of Red Faces | Nine | Mon | 1492000 |
| 18 | Ellen | Seven | Thu | 1474000 |
| 19 | Chicago Hope | Seven | Wed | 1472000 |
| 20 | Sale Of The Century | Nine | M-F | 1471000 |
Program Highlights (Melbourne, March 2-8):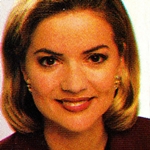 Saturday: The Ansett Australia Cup features Sydney versus North Melbourne (2pm, Seven), live from Canberra, and later Carlton versus Essendon (9.30pm, Seven), live from Waverley Park, Melbourne. Coverage of the 1996 Federal Election is across all networks: ABC's starts at 6pm, breaking only for a brief news bulletin at 7pm, and continuing through to 11.30pm, hosted by Kerry O'Brien and Maxine McKew with Barrie Cassidy; David Johnston hosts Seven's coverage from 6.30pm, including former Prime Minister Bob Hawke, Cheryl Kernot and Peter Reith; Ray Martin hosts Nine's coverage (6.30pm to 11pm) with commentary from Laurie Oakes, Paul Lyneham, Graham Richardson, Peter Costello, Simon Crean and Cheryl Kernot; while Ten's coverage is limited to a 90-minute program, Showdown '96 (9.30pm), with Sandra Sully (pictured) and Paul Bongiorno, joined by senators Robert Hill and Stephen Loosely; and SBS presents regular updates during the evening and a special 9.30pm edition of World News.
Sunday: The final episode of documentary series Nearly Normal Nimbin (7.30pm, SBS) looks at the children of the town and questions them on growing up in a commune. The new drama series Naked: Stories Of Men (8.30pm, ABC) begins with Coral Island, the story of four men gathered at a 20th anniversary dinner at a Jesuit boarding school. The Ansett Australia Cup (8.30pm, Seven) features Brisbane versus Geelong, live from Brisbane. Sunday night movies are Made In America (repeat, Nine), Point Break (repeat, Ten) and the Indian film Splendour (SBS).
Monday: Midday With Kerri-Anne (12pm, Nine) is presented live from Melbourne in the lead up to the Australian Grand Prix. The Cricket World Cup (2.30pm, Nine) features Australia versus West Indies, live from Jaipur, India. In Pacific Drive (11.15pm, Nine), radio announcer Trey (Lloyd Morris) gets out of line on air and Georgina (Kate Raison) pulls the plug; Tim (Darrin Klimek) starts to show interest in a gigolo's life; and Martin (Joss McWilliam) almost catches Joel (Adrian Lee) hocking jewellery for Amber (Christine Stephen-Daly).
Tuesday: In Home And Away (7pm, Seven), Irene (Lynne McGranger) agrees to become a surrogate mother. In the series return of GP (8.30pm, ABC), the Ross Street surgery welcomes new doctor Maureen Riordan (Melissa Jaffer, pictured), while Henry (Steve Bisley) and Sonia (Zoe Carides) make the first steps towards consummating their new relationship. In Blue Heelers (8.30pm, Seven), Adam (Damian Walshe-Howling) fights for his life after a drag racing accident.
Wednesday: In Neighbours (6.30pm, Ten), Jen (Alyce Platt) bids farewell to Ramsay Street and departs for Arnhem Land. Don Parham presents highlights of the Sydney Gay and Lesbian Mardi Gras (8.30pm, ABC), which took place over the weekend.
Thursday: In Neighbours (6.30pm, Ten), Sam (Richard Grieve) is reluctant to enter the Grandchild Of The Year contest until he realises the prize is $10,000. In Home And Away (7pm, Seven), Irene (Lynne McGranger) and Fin (Tina Thomsen) fret about making arrangements for the surrogacy.
Friday: Due to Cricket World Cup commitments over the weekend, Hey Hey It's Saturday becomes Hey Hey It's Friday (8.30pm, Nine), with a special edition ahead of this weekend's Australian Grand Prix in Melbourne. Highlights of the first qualifying session for the Australian Grand Prix are hosted by Darrell Eastlake (10.30pm, Nine).
Source: TV Week (Melbourne edition), incorporating TV Times and TV Guide. 2 March 1996. Pacific Publications Pty Ltd.