Cover: Kristy Wright, Shane Ammann (Home And Away)
'Jana Show' takes shape
Details are starting to emerge about the new current affairs program the Seven Network is planning for its new star, Jana Wendt. Wendt, who moved from Nine's 60 Minutes for a reported $2 million-a-year deal with Seven, is set to front a 60 Minutes-type program, currently with the working title Dateline, but a permanent name for the program is to be announced later this month. Graham Davis, Tracy Bowden, Paul Barry and Mark Llewellyn have signed on as reporters for the new show — with a fifth also tipped to be appointed. But despite the show's apparent hard-hitting nature, Wendt's first story for the new show will be an interview in Tokyo with pop star Bjork. But the Bjork interview isn't an exclusive, as Hey Hey It's Saturday's Molly Meldrum also flew to Japan to interview the Icelandic pop star. A timeslot for the program, which has a budget of $25 million, has yet to be announced.
Hot Property!
Tammy MacIntosh (pictured), one of the cast of Nine's upcoming telemovie McLeod's Daughters, insists that it's not the actors that are the stars of the production set on a remote cattle station. "The land is the main character in this film," she told TV Week. "Above and beyond everything else." The telemovie tells the story of Claire (played by MacIntosh), a girl whose life is suddenly disturbed when her half-sister, Tess (Kym Wilson), returns to the property after an absence of 22 years. Tess' return to the property, run by her cattleman father, Jack (Jack Thompson), has far-reaching consequences. MacIntosh, whose previous credits have included Police Rescue, The Feds and The Flying Doctors, says it makes a change to play an emotionally complex character. "In the past the roles I have played have been very physical. This role is far more intellectual. I'm really enjoying it — it has been quite delicious." McLeod's Daughters is being filmed in the Barossa Valley, about an hour's drive north of Adelaide.
Under Siege!
Blue Heelers' Lisa McCune admits that in portraying violent scenes it's not always pretend. "If someone has to whack you on the back of the head, it helps if you actually feel it," she told TV Week. "It's more realistic — you're more involved in the scene. But it's also much more tiring to work that way." McCune is referring to the upcoming series return of Blue Heelers, where Constables Maggie Doyle (McCune) and Wayne Patterson (Grant Bowler) are among the hostages in a hospital siege. The criminals responsible for the siege are played by guest stars Radha Mitchell (pictured, above, with McCune) and Simon Wilton. "I'd never even held a gun of any sort before," Mitchell told TV Week. "The role was a challenge because the scenes had to build, and I had to think about when I wanted the character to peak. It was difficult to do, because the scenes are not shot in sequence.
Briefly…
Australia's Funniest Home Video Show host Jo Beth Taylor (pictured) is currently touring the country with the stage production of The Rocky Horror Show — but the big tip is that she is set to join Hey Hey It's Saturday as its new female co-host.
Full Frontal's Julia Morris is about to host a new show for Seven. The four-part series Great Aussie Bloopers, featuring previously unseen footage from various Seven Network programs, begins airing this week.
While the cast of Banjo Paterson's The Man From Snowy River are waiting to find out if the Nine Network will give the green light to a fourth series, series star Andrew Clarke (pictured) is enjoying a break while making plans to move into film production. "I have a few ideas for projects and they don't necessarily contain roles for me!," he told TV Week.
Comedian Glynn Nicholas is to make a return to ABC with a self-titled sitcom. Georgie Parker is set to be among the guest stars in the project.
TV's Top 20 (Week Commencing 21 January 1996): 
| | | | | |
| --- | --- | --- | --- | --- |
| Rank | Program | Network | Day(s) | Viewers |
| 1 | National Nine News | Nine | M-F | 1669000 |
| 2 | The Mommies | Seven | Mon | 1541000 |
| 3 | A Current Affair | Nine | M-F | 1539000 |
| 4 | National Nine News | Nine | Sun | 1464000 |
| 5 | Seven Nightly News | Seven | M-F | 1470000 |
| 6 | The X Files | Ten | Wed | 1453000 |
| 7 | Ellen | Seven | Mon | 1442000 |
| 8 | Grace Under Fire | Seven | Thu | 1424000 |
| 9 | The Nanny | Ten | Sun | 1416000 |
| 10 | Seven Nightly News | Seven | M-F | 1413000 |
| 11 | Home And Away | Seven | M-F | 1405000 |
| 12 | Sale Of The Century | Nine | M-F | 1405000 |
| 13 | Hollywood Kids | Seven | Sun | 1378000 |
| 14 | Weird Science | Ten | Sun | 1364000 |
| 15 | Movie: Police Academy 5 | Nine | Sun | 1364000 |
| 16 | The Simpsons | Ten | Wed | 1336000 |
| 17 | Movie: Matlock — Fatal Seduction | Nine | Wed | 1285000 |
| 18 | National Nine News | Nine | Sat | 1285000 |
| 19 | Seven Nightly News | Seven | Sun | 1260000 |
| 20 | Birds Of A Feather | ABC | Sat | 1248000 |
Program Highlights (Melbourne, February 10-17):
Saturday: The AFL Centenary Lightning Premiership (11am and 7.30pm, Seven) continues from Waverley Park, Melbourne. Golf fans are in for a treat with the South Australian Open (1pm, ABC) continuing from Adelaide, and the Australian Skins (3pm, Seven) from Sanctuary Cove, Queensland. The life of transport tycoon and media owner Reg Ansett is covered in the one-hour special RM The Ansett Story (4pm, Nine), hosted by Getaway's Jeff Watson, timed to coincide with the 60th anniversary of the Ansett Australia airline. In the series return of Beyond 2000 (in the new timeslot of 4.30pm, Ten), Caroline West braves the rigours of Russia's space training program.
Sunday: Rural affairs program Landline (12pm, ABC) returns for the new year. Golf continues with the South Australian Open (1pm, ABC) and Australian Skins (3pm, Seven). Darrell Eastlake hosts the National Surf League (1pm, Nine) from Kurrawa, Queensland. 60 Minutes (7.30pm, Nine) returns for 1996. The AFL Centenary Lightning Premiership (7.30pm, Seven) continues with the Semi Final and Grand Final matches. Sunday night movies are The Client (Nine), Housesitter (repeat, Ten) and Farewell My Concubine (ABC). Tony Greig and Sunil Gavaskar host the coverage of the opening ceremony of the 1996 Cricket World Cup (11pm, Nine), live from Calcutta, India.
Monday: Midday With Kerri-Anne (12pm, Nine) marks the return of the traditional variety format to the Midday brand, with Kerri-Anne Kennerley (pictured) taking over from last year's co-hosts Tracy Grimshaw and David Reyne. In Home And Away (7pm, Seven), Shane (Dieter Brummer) is kidnapped and threatened by criminals. Daryl Somers hosts The Best And Worst Of Red Faces No.7 (7.30pm, Nine), featuring more classic performances from Hey Hey It's Saturday's Red Faces talent quest. Nine's new police drama Water Rats (8.30pm, Nine) debuts with a two-hour episode, starring Colin Friels, Catherine McClements, Sophie Heathcote and Aaron Jeffery. Four Corners (8.30pm, ABC) and Media Watch (9.15pm, ABC) are both returning for 1996.
Tuesday: Ex-pat Aussie Clive James makes a guest appearance in Neighbours (6.30pm, Ten), playing the part of a postman. In the series return of Fire (9.30pm, Seven), Spit (Wayne Pygram) has trouble with his new female firefighter, the headstrong Tex (Tottie Goldsmith).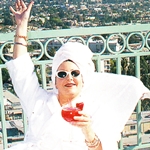 Wednesday: In Home And Away (7pm, Seven), Joanne (Kimberley Joseph) accuses Fisher (Norman Coburn) of sexual harassment. Former cricketer Mike Whitney hosts the new action-adventure show Who Dares Wins (7.30pm, Seven), and comedian Julia Morris (pictured) hosts Great Aussie Bloopers (8pm, Seven). Rachel Maza and Nathan Ramsay host the new indigenous affairs program ICAM (7.30pm, SBS). In Pacific Drive (11pm, Nine), Rick (André Eikmeier) and Callie (Danielle Spencer) have a sexy night out.
Thursday: Another golf tournament, with the Australian Masters (12pm, Seven) beginning four days of competition, live from Huntingdale, Melbourne. In Neighbours (6.30pm, Ten), Mal (Benjie McNair) realises that Kate (Christie Sistrunk) must have been more than just a patient to Karl (Alan Fletcher).
Friday: In Neighbours (6.30pm, Ten), Karl (Alan Fletcher) and Susan (Jackie Woodburne) continue to drift apart, neither wanting to bring up the issue of Kate (Christie Sistrunk). In Home And Away (7pm, Seven), Travis (Nic Testoni) and Shane (Dieter Brummer) go overboard out at sea while escaping from a gang of criminals. Bridget Adams and Rob Elliott host the debut of new interactive variety-game show Talking Telephone Numbers (7.30pm, Seven).
Source: TV Week (Melbourne edition), incorporating TV Times and TV Guide. 10 February 1996. Pacific Publications Pty Ltd.