Cover: Pamela Anderson (Baywatch)
The doctor is… out!
In a shock storyline, the final episode of GP for 1994 will see the departure of Dr Tessa Korkidas (Marilynne Paspaley), her husband Ian (Tony Llewellyn-Jones) and children Zoe (Janelle Owen), Donna (Tracie Sammut) and Peter (Dominic Elmaloglou). After visiting her ailing mother in Greece, Dr Korkidas comes to some realisations, leading to the family reassessing their lives and deciding to move on. "For a show like GP to continue for so long and at such a high standard, they have to make changes," Paspaley said. "We all know that is the nature of the business."
Midday host's high noon
Nine's Midday recently presented a week of shows from Movie World on the Gold Coast. But it wasn't an easy trip for host Derryn Hinch, who had injured his back the night before TV Week's visit to the Western-style movie set at the theme park, and had also lost his luggage after an airline mix up. He was kept in good spirits, helped along by Geoff Harvey and Jacki MacDonald. And earlier rumours that suggested Hinch may be replaced by Don Lane as Midday host in 1995 appear to have been quashed — with Hinch now apparently with the backing of Nine executives and Lane planned to appear in a series of one-off specials.
Sonia waltzes into Wonder World
Sonia Kruger is a former competitive dancer that rose to fame as Tina Sparkle in the hit film Strictly Ballroom. Now she's getting out of the sequins for her first major move into TV, as a reporter for children's show Wonder World. "When I was in primary school, a teacher said to my mother that I should be a journalist because I did like to write stories, so it's always something I've wanted to do," she told TV Week. "I suppose, though, being a dancer, an actor and a blonde, so to speak, you tend to get cast in these glamorous type of bimbo roles. For me to go straight into 60 Minutes or something wouldn't exactly work, but Wonder World is fun."
Gillespie's child abduction expose
An SBS documentary, Empty Arms — Broken Hearts, looks at the crime that has become known as international parental abduction, inspired by the abduction of the children of journalist Jacqueline Gillespie by their father, Malaysian Prince Raja Bahrin. Gillespie spent almost a year researching and filming the documentary, though it purposely gives little insight into her own case which attracted widespread media attention. While making the documentary, Gillespie was arrested twice overseas in Monte Carlo and Morocco (where she was forced to hide video tapes down her trousers) and hospitalised in London (after her breast was injured by a woman in Monaco and it became infected). She also met and befriended a number of parents who have gone to great lengths to find their children. "They all tell me the thing they find hard to accept are the headlines that say, 'Tug of love child' or 'Custody battle'. These people have already been through custody battles. It's not a tug of love or a custody battle. People seem to equate child abduction with domestic violence. They think, 'It's only a domestic, it's fine'."
Briefly…
Gary Sweet (pictured) didn't do anything in halves when he was asked to host a special featuring the world's most dangerous stunts. For the show's introduction he geared up with ropes and harnesses and abseiled over the Sydney Harbour Bridge. After doing his fair share of stunts as Mickey McClintock in Police Rescue, it didn't seem to be much of a stretch.
Former Police Rescue star Zoe Carides has won the role of the new doctor in GP, replacing Marilynne Paspaley.
With Naomi Robson, David White, Jane Hansen and Edwina Gatenby all out of Real Life, what does the future hold for the show? The official line from Seven is that Real Life in 1995 will be "driven by, and focusing on, the man in the chair — Stan Grant. There are no other 'faces' needed."
Steve Jacobs and Sofie Formica are set to spend three weeks in December filming for the new series of Just Kidding, set to appear on screen early in 1995.
TV's Top 20 (Week Commencing 16 October): 
| | | | | |
| --- | --- | --- | --- | --- |
| Rank | Program | Network | Day(s) | Viewers |
| 1 | Just Kidding | Nine | Tue | 2191000 |
| 2 | Money | Nine | Tue | 2123000 |
| 3 | Australia's Funniest Home Video Show | Nine | Tue | 1951000 |
| 4 | The Very Best Of The Don Lane Show | Nine | Wed | 1910000 |
| 5 | Our House | Nine | Wed | 1896000 |
| 6 | Lois & Clark The New Adventures Of Superman | Seven | Mon | 1784000 |
| 7 | 60 Minutes | Nine | Sun | 1771000 |
| 8 | A Current Affair | Nine | M-F | 1767000 |
| 9 | National Nine News | Nine | Sun | 1762000 |
| 10 | Getaway | Nine | Thu | 1705000 |
| 11 | Home Improvement | Seven | Wed | 1655000 |
| 12 | National Nine News | Nine | M-F | 1640000 |
| 13 | Special: Homicide — 30 Years On | Seven | Tue | 1560000 |
| 14 | Healthy Wealthy And Wise | Ten | Mon | 1543000 |
| 15 | Sale Of The Century | Nine | M-F | 1535000 |
| 16 | Movie: National Lampoon's Loaded Weapon 1 | Seven | Sun | 1498000 |
| 17 | Home Improvement | Seven | Sun | 1467000 |
| 18 | Hey Hey It's Saturday | Nine | Sat | 1457000 |
| 19 | National Nine News | Nine | Sat | 1451000 |
| 20 | Blue Heelers | Seven | Tue | 1436000 |
Lawrie Masterson: The View From Here
"The Questionable Taste of the Week Award undoubtedly goes to Network Ten's Sports Tonight. It involved a "tribute" to the tennis great Martina Navratilova. It was the 38th birthday of someone deserving Sports Tonight's recognition and respect. We had footage of some of her many triumphs and a few traumas, which was all very fitting, but the use of the old Village People song, Macho Man, as a soundtrack was a tad off-colour. Someone must have thought it funny at the time. It wasn't."
Program Highlights (Melbourne, November 5-11):
Saturday: Ten crosses again to Flemington Racecourse for the final day of the Spring Racing Carnival (11am), with hosts Tim Webster and Peter Donegan, racecallers Dan Mielicki and Gary Willetts, presenter Gordon Bray and fashion reporter Michelle Downes. In A Country Practice (5.30pm, Ten), Danny (Vince Colosimo) asks Claire (Claudia Black) to marry him. The Rugby League Kangaroo Tour Second Test (1.45am, Nine) is live from Trafford, Manchester.
Sunday: In Banjo Patterson's The Man From Snowy River (6.30pm, Nine), it's Colin and Emily's (Brett Climo and Sheryl Munks, pictured) wedding day, but Matt (Andrew Clarke) seems to have eyes only for Kathleen (Wendy Hughes). Sunday night movies are Robin Hood: Prince Of Thieves (repeat, Seven), The Bodyguard (Nine) and Proof (repeat, Ten).
Monday: In Neighbours (6.30pm, Ten), Billy (Jesse Spencer) and Hannah (Rebecca Ritters) are dangerously close to an accident. In Healthy Wealthy And Wise (7.30pm, Ten), Ronnie Burns has some important bathroom safety tips for parents, Iain Hewitson travels to an asparagus farm and cooks a chicken dish with a peach relish, Ross Greenwood advises on seeking work overseas, and Tonia Todman visits the Victorian Tapestry Workshop. Arts program Review (10pm, ABC) provides the only TV coverage of the AFI Awards, held at the World Congress Centre, Melbourne. Nominated for Best Film are The Adventures Of Priscilla Queen Of The Desert, Bad Boy Bubby, Muriel's Wedding and The Sum Of Us.
Tuesday: In Home And Away (7pm, Seven), Roxy (Lisa Lackey) fears Donna's (Nicola Quilter) arrival back in town could threaten her relationship with Rob (Matthew Lilley). In Blue Heelers (7.30pm, Seven), tensions are running high in the Mt Thomas station as renovations are underway, while two Aboriginals known for causing trouble arrive in town. In the series final of GP (8.30pm, ABC), Tessa (Marilynne Paspaley) heads to Greece after her mother realises she has cancer.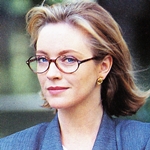 Wednesday: In Home And Away (7pm, Seven), Irene (Lynne McGranger) believes she could become the Dolly Parton of Summer Bay. In Heartbreak High (7.30pm, Ten), after being caught with drugs at a party, Con (Salvatore Coco) hits the depths of despair when he tries to prove that the police set him up but nobody will believe him. Fast Forward makes a return to TV with a special, Fast Forward's Funniest TV Send-Ups (8pm, Seven), featuring some of the show's most memorable sketches. In the first of six Halifax fp telemovies, Acts Of Betrayal (8.30pm, Nine), Jane Halifax (Rebecca Gibney, pictured) helps an old friend, psychiatrist Owen Toser (Andrew McFarlane) when he is accused of murdering a patient, Corri Neale (Sophie Lee).
Thursday: In Neighbours (6.30pm, Ten), Sam (Richard Grieve) is enjoying his peace and quiet, while Rick (Dan Falzon) is getting on everyone's nerves with his self-importance. In Home And Away (7pm, Seven), Irene (Lynne McGranger) resists all jibes when she records her entry into the Country Music Talent Quest. Beyond 2000 (7.30pm, Ten) takes at look at Pay TV — soon to begin in Australia.
Friday: In Rex Hunt's The Great Outdoors (7.30pm, Seven), Penny Cook visits Christmas Island, Steve Starling shows how to have fishing fun with the kids, Andrew Dwyer shows a simple way to make sushi, and Bridget Adams teams up with John Young to study the Sunbird, which is found only in Queensland.
Source: TV Week (Melbourne edition), incorporating TV Times and TV Guide. 5 November 1994. Southdown Press