It is 50 years ago since television came to tropical north Queensland, when TNQ7 launched in Townsville on 1 November 1962.
The station, owned by Telecasters North Queensland Limited, was the second regional television station in Queensland — following the launch of DDQ10 in Toowoomba earlier the same year.
TNQ7's studios and transmitter were initially based on Mount Stuart, on the outskirts of Townsville.
In 1969, Telecasters North Queensland completed the purchase of neighbouring regional station FNQ10 Cairns.  The two stations later identified on-air as NQTV with a common program schedule between them.
On Christmas Eve 1971, Cyclone Althea struck the Townsville area.  TNQ7's studios and equipment were so badly damaged from the storm that staff spent their Christmas and Boxing Day relocating the station to temporary premises in the city of Townsville.  It was another five days before TNQ7 was back on the air, and six months before the station was able to return to Mount Stuart.
In February 1977, TNQ purchased the historic Queens Hotel building located on the Townsville seafront.  The building, which dates back to the 1870s, served as a US Officers' Billet during World War II and went on to provide hotel and accommodation up until its purchase by TNQ.
Although maintaining its external facade, the building was refurbished by Telecasters to include two television studios to accommodate a proposed boost to local production and was officially opened as the new home of TNQ7 in May 1978.
Telecasters North Queensland continued to expand in the late 1980s with the launch of satellite service QSTV in April 1988, providing the first commercial television service to remote Queensland.  In 1990, Mount Isa station ITQ8 was purchased by Telecasters and soon aligned its program schedule to that of QSTV.  ITQ8 and QSTV are now known as Southern Cross Television.
The upcoming advent of aggregation in 1990 saw the Cairns and Townsville stations re-branded from NQTV to QTV, with plans to affiliate to the Nine Network for program supply.  Prolonged negotiations with the Nine Network over affiliation fees failed to reach a resolution despite TNQ being part owned at the time by Nine.  Only seven days before the planned aggregation launch Nine pulled the plug on negotiations, leaving QTV with barely a week to find programs to broadcast across its expanded market.
QTV signed up a deal with the Ten Network just days before launching across the Queensland market.
The cost of expansion for QTV to meet the Federal Government's aggregation policy was estimated to be around $28 million over four years.
The company later cemented its ties to the Ten Network as a shareholder in the metropolitan network and re-named itself Ten Queensland.
The advent of aggregation saw QTV's local news production expand from a half-hour regional bulletin to a one-hour local and national news bulletin tapping into the resources of Network Ten.
Ten Queensland continued to provide a news service to the north Queensland market up until 2001 after Telecasters had been taken over by Southern Cross Broadcasting.   The axing of local news services by Southern Cross and NSW-based Prime Television sparked an investigation by the Australian Broadcasting Authority into the provision of local news in regional markets.  As a result there are now conditions placed on licencees to provide at least a minimum amount of local news material in regional areas.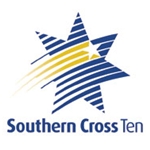 Since 2002, TNQ has broadcast as Southern Cross Ten and along with its local rival networks has made the full transition from analogue to digital transmission.
The station has also won a TV Week Logie for its documentary series My Place My Land My People, produced in 1989 and was later broadcast nationally via SBS.
Source: Ten Queensland, 1996.