The Melbourne Cup is Australia's longest running annual sporting event — this year is the 152nd running of the 'race that stops the nation'.  But the Melbourne Cup isn't just about the horses… some would say more importantly it's about the fashions on the field.
The occasion of the Melbourne Cup usually gives the TV fashionistas a chance to strut their stuff in the obligatory magazine previews of the Melbourne Cup…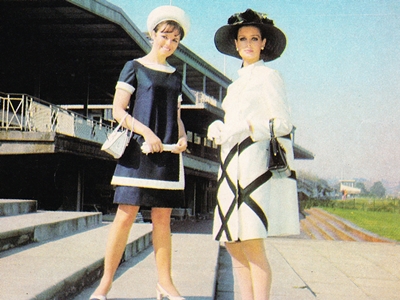 1968: GTV9 weather girl Rosemary Margan and Today co-host Bobo Faulkner (above), while In Melbourne Tonight's Bert Newton and Mike Preston pose with jockey J. Miller (below).
1971:  Meredith Hill, weather girl for ATV0 Melbourne.
1980: Rowena Wallace (Prisoner), Janet Kingsbury (The Restless Years), John Ewart (The Restless Years), Val Lehman (Prisoner).
1982: Di Morrissey (Good Morning Australia), Patsy King (Prisoner), Lisa Crittenden (Prisoner) and Anne Wills (Beauty And The Beast).
1992: Renee Brack (Hard Copy) and Rachel Blakely (Neighbours) with jockey Steven King.
1994: Neighbours stars Eliza Szonert, Richard Grieve, Raelee Hill, Dan Falzon.
1997:  Neighbours stars Todd MacDonald, Nicola Charles and Brooke Satchwell.
2000:  Melanie Alexander (Bright Ideas), Don Hany (The Blue Planet), Tania Zaetta (The Blue Planet), Rob Palmer (Live This).
This year will be the Seven Network's 11th annual telecast of the Melbourne Cup since securing the rights from Network Ten in 2002.
Source: TV Week, 9 November 1968, 30 October 1971, 1 November 1980, 30 October 1982, 31 October 1992, 29 October 1994, 1 November 1997, 4 November 2000.
The 2012 Melbourne Cup Carnival — Emirates Melbourne Cup Day.  Tuesday 6 November, 10.00am (AEDST), Seven (check local guides).