Goodnight, Jana!
TV Week reports an exclusive that A Current Affair host Jana Wendt (pictured) is to take a year off on full pay — worth around $2 million — to spend more time with her young son, Daniel.  The deal, struck between Wendt and network chief David Leckie, was negotiated over a series of private meetings over two months — although Nine has yet to make a public statement of the agreement.  Wendt's move away from ACA in early 1993 is set to trigger a shuffle of network personalities, with Midday host Ray Martin set to move into the ACA presenting role and 60 Minutes reporter Mike Munro to take over on Midday.  A Current Affair reporter Charles Wooley is believed to have negotiated a move across to 60 Minutes to replace Munro.
There goes the bride
All Together Now star Rebecca Gibney has dropped a bombshell on producers with her decision to leave the series.  Gibney, who recently wed rock star Jack Jones, will tape her last episode later this month and plans to spend time with her new husband as he pursues career interests overseas.  Actresses Nikki Coghill and Kate Raison are among those that have auditioned to replace Gibney in the Nine Network sitcom.
Beyond Bony!
Bony star Cameron Daddo is heading to the US with wife Alison Brahe to try and further his acting career.  In the meantime the former Perfect Match host turned actor is also strongly tipped to take on the lead role in the stage production of Joseph And His Amazing Technicolour Dreamcoat, which is due to open in Melbourne later this year for a six week season.
Briefly…
The Nine Network has abruptly removed its murder mystery show Cluedo from the schedule with three episodes still to go.  The network is believed to be retaining the episodes to lead in to the second series which is due to go to air next year.  Production of a third series is currently in negotiation stages.
Producers of ABC's Everybody have discovered some plagiarism in a recent press release promoting the Seven Network's upcoming lifestyle series, Live It Up, to be hosted by Trish Goddard.  The press release from Ms Goddard's publicists features sections copied straight from Everybody program notes.  "It's interesting to see how often the commercial stations rely on the ABC instead of original thought," said Stuart Scowcroft, ABC's head of Science and Features.
Actor John Orcsik (pictured), about to begin a 13-week role in Home And Away, has spoken to TV Week about the break-up of his marriage to former Cop Shop colleague Paula Duncan.  "It's not the end of the world, nor the end of anything," he told TV Week.  "Paula and I are friends and always will be, and that's what counts."  The pair were married in 1982.
Lawrie Masterson: The View From Here
"To the tally of medals won by Australians during the recently completed Spanish Sportsfest, add another bronze for the Seven Network.  Gary Fenton's team did not win gold because its times were not — and were never going to be — good enough, and one or two tactical errors edged it out of contention for silver.  The biggest problem was that move of the glamour events, particularly on the track and for the most part in the pool, were shown in prime time… prime time if you happen to live in New York, that is.  I do, of course, understand that the Americans paid a lot more teledollars than us and, therefore, were always going to win gold in the heavyweight arm-twisting.  Still, all the understanding in the world doesn't make life any easier when the action is taking place in Barcelona and your body clock is operating on Australian Eastern Standard Time.  Seven exacerbated it somewhat for the sports-loving nine-to-fiver… we were hit over the head with news, Real Life and Home And Away when arriving home in the evenings.  This might have been a clever con — sorry, I meant ploy — from the network's point of view, but it resulted in a majority of people not having an opportunity to see replays of some of the glamour events until about 18 hours later.  No points to Seven on this apparatus."
Program Highlights (Melbourne, August 16-22):
Sunday:  Soprano Marilyn Richardson is the guest on this week's Sunday Afternoon With Peter Ross (ABC).  Seven crosses to the SCG in the afternoon for live coverage of the AFL match between Sydney Swans and Melbourne, followed by a 5.00pm edition of Seven Nightly News before crossing to Football Park, Adelaide, for the match between Adelaide Crows and St Kilda.  Networks commemorate the 15th anniversary of the death of Elvis Presley with movies Elvis That's The Way It Is (Seven), Tickle Me (Nine) and the mini-series Elvis And Me (Ten).  Sunday night movies are My Blue Heaven (Nine) and Back To The Future II (Ten) up against mini-series To Catch A Killer (Seven).
Monday:  In A Country Practice (Seven), Terence (Shane Porteous) is surprised when Rosemary (Maureen Edwards) returns with a strange man, while Darcy (Kym Wilson) disappears after a drinking binge.
Tuesday:  ABC and SBS each present a live one-hour coverage of the Federal Government's Budget '92.  The Nine and Ten networks present half-hour reports on the Budget later in the evening.  In GP (ABC), William (Michael Craig) discovers a single mother who is operating as a sex worker from home and offers to help her find a job.  In Sylvania Waters (ABC), Laurie fails a medical he needs to qualify for a car race and Noeline puts him on a diet.
Wednesday:  ABC presents a two-hour special, A Tribute To Dame Joan Sutherland, direct from the Sydney Opera House and featuring 16 of Australia's finest singers accompanied by the Sydney Symphony Orchestra.  The special is simulcast on ABCFM.
Thursday:  Maggie Tabberer and Richard Zachariah return with a new series of The Home Show (ABC).  Nine presents a one-hour special, Sex By Request, featuring a review of the recently-completed first series of controversial magazine program Sex.  In Bligh (Seven), a terrible plague engulfs the colony and Bligh (Michael Veitch) must find the money to build a new hospital.  ABC and SBS both broadcast the Opposition leader Dr John Hewson's Right of Reply to the Federal Budget.
Friday:  Ten presents a delayed telecast of the NBL Mitsubishi Challenge match between the Illawarra Hawks and the Adelaide 36ers, from the Snake Pit, Wollongong.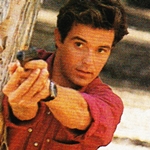 Saturday:  Nine's Wide World Of Sports presents a special Winter Weekend edition from Perisher Valley, where skiers compete for $32,000 prize money.  In Bony (Seven), Bony (Cameron Daddo, pictured) and Frank's (Christian Kohlund) boss Vincetti (Terence Cooper) must testify against a powerful underworld kingpin who is known to have corrupt police contacts.  Nine presents live coverage overnight of the One Day International cricket from Lords, London, hosted by Ian Chappell with commentators Richie Benaud, Tony Lewis, Geoffrey Boycott and Ray Illingworth.
Source: TV Week (Melbourne edition), incorporating TV Times and TV Guide. 15 August 1992.  Southdown Press.