6 September 1975: Jon Finch (Ben Hall)
6 September 1997: Julian McMahon (Profiler) and Tasma Walton (Blue Heelers)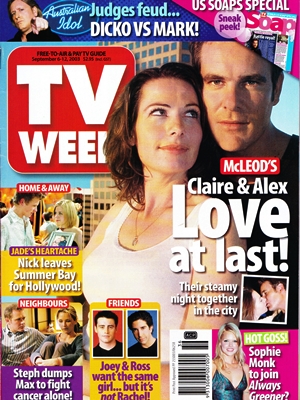 6 September 2003: Lisa Chappell and Aaron Jeffery (McLeod's Daughters)
6 September 2008: Todd Lasance, Jessica Tovey, Luke Jacobz (Home And Away)
---
6 September 1976: ATV0's evening variety show Ernie, hosted by Ernie Sigley, begins a week of shows presented live from Hong Kong.
6 September 1997: ABC, Seven, Nine and Ten networks override scheduled prime time programming to broadcast the funeral of Diana Princess Of Wales, live from London.
6 September 2008: Adam Hills, Louise Sauvage and Karen Tighe host ABC1's coverage of the Opening Ceremony of the 2008 Paralympic Games from Beijing. Daily coverage of the Paralympics continues on both ABC1 and ABC2 channels.