10 September 1977: Ray Burgess (Flashez)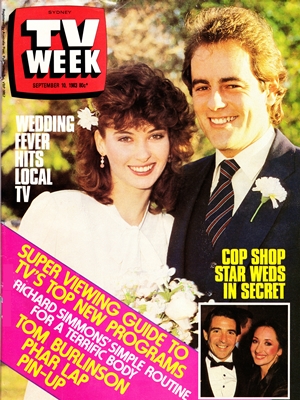 10 September 1983: Kim Lewis and Ian Rawlings (Sons And Daughters)
10 September 1988: Kylie Mole (Maryanne Fahey, The Comedy Company) and Greg Evans (Perfect Match)
10 September 2001: Madeleine West, Blair McDonough, Carla Bonner (Neighbours)
10 September 2005: Paul O'Brien and Jodi Gordon (Home And Away)
---
10 September 1968: The Brisbane debut of the Seven Network variety show A Guy Called Athol, with Athol Guy, formerly of the singing group The Seekers. A Guy Called Athol debuted in Sydney and Melbourne in August.
10 September 1978: Sunday night's movies are Great Scout And Cathouse Thursday (1976), Cruise Into Terror (1978) and Kill Me If You Can (1977).
10 September 1988: First day of transmission for Brisbane's TVQ10, following its switch overnight from TVQ0 — When Brisbane came across to Ten [2008]
10 September 1989: In the all-important 7.30pm Sunday timeslot: That's Dancin' (ABC), Australia's Most Wanted (Seven), 60 Minutes (Nine) and The Comedy Company (Ten).
10 September 1993: In the 2000th episode of Neighbours (Ten), a surprise birthday celebration for Helen Daniels (Anne Haddy) sees the return of Lucy (Melissa Bell) and Paul (Stefan Dennis) to Ramsay Street.