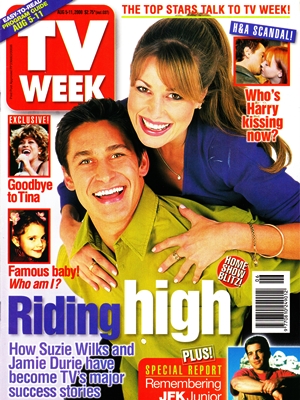 5 August 2000: Suzie Wilks (Changing Rooms) and Jamie Durie (Backyard Blitz)
5 August 2006: Kate Ritchie (Home And Away)
---
5 August 1964: Having debuted some of its major Australian productions over recent days, ATV0's first Wednesday night is predominantly launching American fare — Grindl, The Law And Mrs Jones, Burke's Law, The Steve Allen Show and The Fugitive.
5 August 1979: Jovan — The John Sullivan Story, the telemovie spin-off from The Sullivans, airs on Nine. Starring Andrew McFarlane in the title role of John Sullivan, with Frank Gallacher, Olivia Hamnett, Carol Burns and newcomer Vera Plevnik.
5 August 1996: It has taken two years, but Friends is finally making its Australian debut on the Seven Network. The hit US sitcom has taken two years to get to Australian screens, largely due to a prolonged battle between Seven and Nine for rights to the show.
5 August 2001: The debut of mockumentary series All Aussie Adventures, following accident prone outback adventurer Russell Coight (Glenn Robbins) as he tackles Australia's rugged outback and wildlife.