(This is a revision of the post "Ticking away for 30 years", published for 60 Minutes' 30th anniversary in 2009)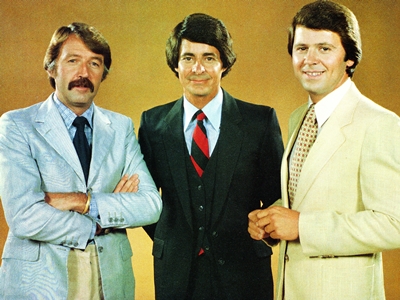 Beginning on 11 February 1979, 60 Minutes marked a new era for current affairs on Australian commercial television. Before then, current affairs on commercial television was limited to early evening programs, such as Willesee At Seven and the original A Current Affair, or low-profile late night programs that attracted few viewers. And Sunday night at 7.30pm was most definitely a time for light entertainment as viewers prepared to enter a new working week, so for Nine to slot an expensive new current affairs program into one of the most important timeslots of the week was an extreme gamble.
Based on the American program of the same name and assembled by former Nine news reporter and producer Gerald Stone (pictured), Nine's multi-million dollar gamble almost didn't pay off as viewers did not attach themselves to the new 60 Minutes in any hurry. The first episode barely rated in double figures. But Nine persevered and, by 1980, 60 Minutes was becoming the flagship of its prime-time schedule.
60 Minutes was also different to other current affairs shows at the time in that its reporters become almost as much the story as the subjects they are covering. The show's initial reporting lineup – Ray Martin, George Negus (pictured above) and Ian Leslie – while they had years of television journalism experience between them, were far from being household names until they joined 60 Minutes when suddenly they were prime-time celebrities and fodder for magazine covers and interviews.
The program was set to launch with a fourth reporter, Melbourne journalist Kate Baillieu, but she resigned weeks before the show's debut. So it was former Network Ten newsreader Jana Wendt (pictured) who became 60 Minutes' first female reporter when she joined in 1982.
Wendt set a new benchmark for female journalists who previously might have more likely to cover light news or human interest stories on commercial television.  She  went on to become one of television's most valued TV presenters with a career that has also included A Current Affair, Witness, Dateline, Sunday, a number of return visits to 60 Minutes, filing special reports for the American 60 Minutes and winning a TV Week Gold Logie.
The 60 Minutes lineup has included many others along the way: Jeff McMullen, Charles Wooley, Jennifer Byrne, Elizabeth Hayes, Tracey Curro, Paul Barry, Paul Lyneham, Ellen Fanning, Peter Overton, Tara Brown, Mike Munro, Liam Bartlett, Peter Harvey, Ross Coulthart, Michael Usher, Tom Steinfort and Allison Langdon.  ABC political reporter Richard Carleton made headlines when he joined 60 Minutes, after many years with the national broadcaster, and himself became a story subject when he allowed 60 Minutes to cover his own heart bypass surgery in 1988.  Tragically, while covering the Beaconsfield mine disaster in 2006, Carleton died from a heart attack.
Of course, the program has had many significant moments: former British Prime Minister Margaret Thatcher giving George Negus an ear-bashing over claims that Britons said she was pig-headed; Ray Martin's award-winning report on Sydney's Chelmsford Hospital; One Nation leader Pauline Hanson (pictured), when asked was she xenophobic, famously responds "please explain"; former cult spokeswoman Ma Sheela's calm response – "tough titties!" – when accused of stealing $40 million from the cult; actor Tom Cruise telling Peter Overton to "stick his manners back in!" after questions about former wife Nicole Kidman; and former Nine Network CEO Eddie McGuire presenting a special report on colleague Sam Newman's prostate cancer surgery.
More recently the show made news when reporter Tara Brown and accompanying production crew members were arrested on charges of alleged child abduction in Beirut while filming a story about an Australian mother trying to claim back her children. The children had been taken to Lebanon by their father and who refused to return them. The reporter and crew faced the potential of prison sentences, however the charges were later dropped.

YouTube: 60 Minutes Australia
Earlier this year 60 Minutes was inducted into the TV Week Logie Awards Hall of Fame.
This Sunday night, 60 Minutes takes a look back at its 40 years in a 90-minute special, featuring past and present reporters recalling some of their most memorable moments.
60 Minutes 40th Year Special. Sunday 2 December, 7.00pm. Nine.