Veteran radio and television identity Philip Brady has been awarded an Order of Australia Medal in this year's Queen's Birthday Honours list.
Brady, who earlier this year celebrated 60 years in the industry, has appeared across variety shows including In Melbourne Tonight and The Graham Kennedy Show and hosted quiz and game shows Concentration, Everybody's Talking, Password, Casino 10 and The Money Makers. 
He has also been a guest on shows including The Late Show, Good Morning Australia and The Royal Children's Hospital Good Friday Appeal.
He currently co-hosts radio 3AW's Remember When and Nightline programs.
Other media identities in this year's list include:
Gordon Bennett — "For service to the television broadcast industry, and to the community". Bennett started as a cameraman for HSV7 and went on to be a producer of sports coverage for HSV and the Seven Network for over 40 years and also a producer of The Royal Children's Good Friday Appeal.
Robert Crawford — "For service to the performing and visual arts, and as an author. " Crawford was a writer for TV programs including The Mavis Bramston Show, In Melbourne Tonight and Australia's Celebrity Game.
Tom Gleisner — "For distinguished service to the media and television industries as a writer, producer, actor and presenter, to children living with cancer, and as a supporter of young
people with autism spectrum disorders." Gleisner was part of the original D Generation series in the mid 1980s and has written, produced and/or appeared in a number of productions since including The Late Show, Frontline, Funky Squad, The Panel, A River Somewhere, Thank God You're Here, All Aussie Adventures, Audrey's Kitchen, The Hollowmen and Have You Been Paying Attention?
Robert Gottliebsen — "For significant service to the print media as a journalist, editor and business analyst, and to education through
school governance roles." Gottliebsen is a financial journalist who was a regular business and finance correspondent on television.
Chong Lim — "For significant service to the performing arts as a
musician, composer, producer and musical director, and to
the community. " Television credits include Don't Forget Your Toothbrush, It Takes Two, TV Week Logie Awards and over a decade with Dancing With The Stars.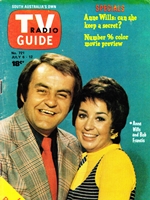 Anne Wills — "For service to the broadcast media in South Australia". 'Willsy' was a regular in Adelaide television for over 30 years, beginning as a weather presenter at NWS9 and working across all three commercial channels in Adelaide, appearing on Adelaide Tonight, Penthouse Club, Movie Scene, Clapperboard, AM Adelaide, Eyewitness News and Seven News. National TV appearances included The Bert Newton Show, The Ernie Sigley Show, Beauty And The Beast and Good Morning Australia. Winner of a record 19 TV Week Logie Awards.