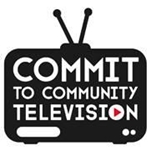 The Australian Community Television Alliance has announced that four of its member stations — C31 Melbourne, 44 Adelaide, 31 Digital Brisbane and WTV Perth — have accepted an offer from the Government to have their broadcast licences extended until the end of 2016.
The community TV sector was informed last year that its access to broadcast on free-to-air television would be revoked as of the end of 2015. The decision sparked a widespread campaign of public support for the community TV stations to stay on the air.
In September an offer the extend the stations' broadcast licences by 12 months was made by the then Minister for Communications, Malcolm Turnbull.
The Alliance has issued a brief statement this afternoon:
Hello Community TV supporters

A huge thanks to you all for helping secure a lifeline for Community TV!

Four Community TV stations recently accepted an offer from the Federal Government which grants the sector a one year extension of its free to air TV licence, through until the end of 2016.

This welcome decision by the Federal Government will allow the CTV sector crucial time to develop and roll-out our online platforms which we are confident will be relevant and attractive to all stakeholders – producers, sponsors and viewers.

Most importantly though, Community TV will continue on free to air TV through 2016.

For helping to protect the home of grassroots Australian community content we say thank you, dear viewer.

See you in 2016!