Maggie makes her move
The long-time simmering attraction between Blue Heelers cops PJ and Maggie (Martin Sacks and Lisa McCune, pictured) finally results in their first kiss as the series comes to a close for the year. But in a surprising development, given PJ's usual forward manner with women, it is Maggie who makes the first move at a Christmas party. Viewers are warned, however, not to expect this to be a fairy tale romance. "No-one should assume it's going to be a happy road for them," McCune tells TV Week. "If Maggie and PJ moved in together, they'd end up hating each other's guts.". She adds, "We're not going to be TV's next hottest couple!" With production of Blue Heelers now on a break over Christmas, McCune and co-star John Wood will be heading to the UK for a promotional visit since the series has been picked up this year by the ITV network.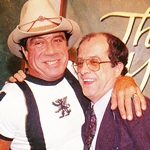 Molly's memorable night
When the Nine Network launched This Is Your Life earlier this year, host Mike Munro warned Molly Meldrum, "We'll have to do one on you." Meldrum responded, "Over my dead body!" But eventually Munro got his way, and a surprised Meldrum lived to tell the tale. Meldrum was lured to Sydney to make a presentation to performer Tina Arena, and as Munro entered the scene, Meldrum assumed This Is Your Life was doing a show on her until it finally dawned that they were doing a show on him! The passing parade of celebrities to pay tribute to Meldrum included Ronnie Burns, John Paul Young, Daryl Braithwaite, Hey Hey It's Saturday colleague John Blackman, performers Peter Andre and Jo Beth Taylor, Mushroom Records boss Michael Gudinski and cricket mates Greg Chappell and Jeff Thompson. Also joining Meldrum on set were his brother, journalist Brian Meldrum (pictured), and adopted son Morgan.
Will Dieter crash out of Home And Away?
A horrific motorbike accident leaves Shane Parrish's (Dieter Brummer) life hang in the balance as Home And Away comes to an end for the year. In scenes filmed at Sydney's Oran Park raceway, Shane goes out to buy some ice-cream and in his haste is seen overtaking a truck as the headlights of an oncoming vehicle are mirrored in his visor. Viewers will have to wait until next year to see if Shane survives, although it is known that Brummer is leaving the series in December and will be seen on screen until early next year. In another end of series cliffhanger, Dr Kelly Watson (Katrina Hobbs) is jabbed by a needle and fears she may have been infected with HIV.
Briefly…
Jack Thompson is to play a cattle station owner in the Nine Network's new telemovie project, Drover's Girls. Thompson's character, Jack McLeod, dies leaving his two daughters to run the station. Casting for the other characters is still to be confirmed. Production starts in South Australia next month.
Maggie Kirkpatrick (pictured) has reprised her role of prison officer Joan Ferguson from Prisoner for a musical revival of the hit series now on stage in the United Kingdom. The production also features UK drag queen Lily Savage (pictured) as a tourist who ends up behind bars while on an Australian holiday.
Andrew Daddo's latest TV gig is as a reporter on the new UK-produced travel series Lonely Planet, based on the best-selling travel books. Daddo presents two documentaries for the series, one based in Africa and the other in India. Lonely Planet will screen in Australia on the Seven Network.
Mimi Macpherson is still with the Discovery pay TV channel, despite earlier reports that her future with the channel was in doubt following a recent drink-driving charge. "They didn't seem too bothered at all about the incident," she told TV Week. "I am still doing bits and pieces for them."
The Nine Network has said "no comment" to rumours that Getaway reporter Christina Morrissy is to be let go from the show following the appointment of new reporter Catriona Rowntree.
TV's Top 20 (Week Commencing 5 November): 
| | | | | |
| --- | --- | --- | --- | --- |
| Rank | Program | Network | Day(s) | Viewers |
| 1 | Blue Heelers | Seven | Tue | 1938000 |
| 2 | This Is Your Life | Nine | Thu | 1930000 |
| 3 | Movie: The Bodyguard | Nine | Sun | 1900000 |
| 4 | 60 Minutes | Nine | Sun | 1767000 |
| 5 | National Nine News | Nine | Sun | 1737000 |
| 6 | The Nanny | Ten | Wed | 1659000 |
| 7 | A Current Affair | Nine | M-F | 1656000 |
| 8 | Here Comes The Bride | Seven | Mon | 1617000 |
| 9 | National Nine News | Nine | M-F | 1601000 |
| 10 | The Great Outdoors | Seven | Tue | 1600000 |
| 11 | Our House | Nine | Wed | 1587000 |
| 12 | Getaway | Nine | Thu | 1579000 |
| 13 | RPA | Nine | Thu | 1535000 |
| 14 | National Nine News | Nine | Sat | 1532000 |
| 15 | Burke's Backyard | Nine | Fri | 1531000 |
| 16 | The Simpsons | Ten | Wed | 1531000 |
| 17 | Money | Nine | Wed | 1513000 |
| 18 | Better Homes And Gardens | Seven | Tue | 1495000 |
| 19 | Home Improvement | Seven | Sun | 1493000 |
| 20 | The X Files | Ten | Wed | 1480000 |
Program Highlights (Melbourne, November 25-December 1):
Saturday: The Australian Open golf (12pm, Seven) continues this weekend from Kingston Heath, Melbourne. The Olympic Dream Fun Run (12pm, Ten) features highlights of the 6th Olympic Dream 10 km run and 6 km walk around the Melbourne Cricket Ground parklands, the Domain and Botanic Gardens.
Sunday: Talk To The Animals (6.30pm, Seven) presents its final show for the year. Documentary series Brian Naylor's Australia (6.30pm, Nine) presents Part One of The Great Little Train From Down Under. Sunday night movies are The Last Of The Mohicans (repeat, Seven), Four Weddings And A Funeral (Nine) and Home Alone (repeat, Ten).
Monday: In Neighbours (6.30pm, Ten), Mark's (Bruce Samazan) career in television is set to take off; while Sam (Richard Grieve) and Annalise (Kimberley Davies) can't bridge the communication gap. Healthy Wealthy And Wise (7.30pm, Ten) presents its second and final installment of highlights from the year. The two-hour special The Very Best Of The Don Lane Show (8.30pm, Nine) gets a re-run.
Tuesday: It's the end of season episodes for Better Homes And Gardens (7.30pm, Seven), The Great Outdoors (8pm, Seven), Australia's Funniest Home Video Show (7.30pm, Nine), Don't Forget Your Toothbrush (8pm, Nine) and The Times (10.35pm, Seven). In the series final of GP (8.30pm, ABC), the wedding of Dr William Sharp and Eva Fowler (Michael Craig and Sue Walker, pictured) marks Dr Sharp's departure from the series. But as with any TV wedding, not everything goes to plan for Dr Sharp, as divorce papers, a dead body, the impending wedding, his retirement plans and other worries trigger flashbacks to a 10-year-old William during his first days at the surgery with his parents. In Blue Heelers (8.30pm, Seven), the Heelers are desperate to find Gina's (Rachel Blakely) rapist after mistaking Sam (Stephen Whittaker) as the guilty party.
Wednesday: In Neighbours (6.30pm, Ten), Susan (Jackie Woodburne) finally tells the truth about her mother's death; and Cody (Peta Brady) wages war against lecturer Adrian (Jeremy Kewley). In Home And Away (7pm, Seven), Jack's (Daniel Amalm) mother wants him to leave Summer Bay and live with her. In Bordertown (8.30pm, ABC), Joe (Joe Petruzzi) is sent to face trial, and Bev (Linda Cropper) believes her last chance at romantic happiness is lost.
Thursday: The Third Test (10.50am, Nine), Australia versus Pakistan, begins from the Sydney Cricket Ground. Getaway (7.30pm, Nine) takes a different than usual tact this week — with a group of viewers armed with video cameras and sent off on their holidays with their families to record their fantastic memories and total disasters. This Is Your Life (8.30pm, Nine), RPA (9pm, Nine), Lateline (10.30pm, ABC) and Denton (10.35pm, Seven) present their final shows for the year.
Friday: In the series final of Neighbours (6.30pm, Ten), Stonie and Annalise's (Anthony Engelman and Kimberley Davies) secret relationship is finally found out. It may or not be a coincidence that on World AIDS Day, the series final of Home And Away (7pm, Seven) reveals that Dr Kelly Watson (Katrina Hobbs) may be HIV positive after cutting herself while attending to an HIV-positive patient. Jennifer Keyte's World Around Us (7.30pm, Seven) features the special Rex Hunt's Fishing Adventures In Japan. Sale Of The Century (7pm, Nine) and Burke's Backyard (7.30pm, Nine) present their final shows for the year.
Source: TV Week (Melbourne edition), incorporating TV Times and TV Guide. 25 November 1995. Southdown Press