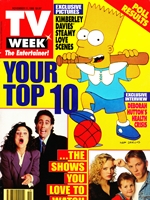 Ay, caramba! Simpsons poll shock!
The votes are in. TV Week readers have responded to the magazine's poll inviting them to nominate their top ten programs of all time. Only one Australian program (Home And Away) made the final top ten, with seven titles being American and two British. Vintage sitcom The Brady Bunch made tenth place, followed by Fawlty Towers, Mr Bean, ER, MASH, Home And Away, Seinfeld, Melrose Place, The X Files and finally The Simpsons topping the poll. Among the titles outside the top ten were Hey Hey It's Saturday (#11), Neighbours (#12), Blue Heelers (#13), A Country Practice (#18), Prisoner (#25), Countdown (#27), Mother And Son (#28), The Sullivans (#32), Young Talent Time (#39), Gladiators (#45) and Brides Of Christ (#47).
Elle brings down the house
Elle McFeast (Lisbeth Gorr) revisits the some of the lesser known events surrounding the dismissal of the Whitlam government in the ABC special, The 20th Anniversary Of The Whitlam Dismissal. Joined by Mark Warren and Mikey Robins, McFeast tracks down various political figures from both past and present to reveal all — such as why Gough Whitlam chose to go home and chew over his future on a steak instead of mobilising support in the House. "Gough is an icon," McFeast told TV Week. "This special focuses on the menage a trois between Whitlam, (Malcolm) Fraser and (Governor General, Sir John) Kerr. It was truly a clash of personalities. A storyline worthy of Neighbours. Remember the old Daphne, Des and Shane triangle? Just like that." Sharing their memories with Elle are politicians including Sir John Gorton, Paul Keating, Frank Crean, Al Grassby, Simon Crean, Kim Beazley, Ian Sinclair, Dr Jim Cairns and Junie Morosi.
The changing face of Full Frontal
"You can get that look off your face right now!" are the words Full Frontal's Julia Morris (pictured) remembers most from her mother while growing up. But pulling faces was a habit that has served Morris well in her comic career. "I pulled faces at school so I'd be noticed," she told TV Week. "Not that I was an attention seeker or anything!" Morris, a former real estate agent who moved into comedy, joined Full Frontal this year and is now hosting her own show, For Better Or For Worse: World's Funniest Wedding Disasters. "The first time I hosted the show, I was so nervous," she said. "I used to have this dream when I was little, about being on Young Talent Time and not knowing the number I was supposed to sing. Doing Wedding Disasters was a bit like that!"
Catriona's going places
Catriona Rowntree (pictured), host of Nine's What's Up Doc? and Wonder World and former presenter for radio Triple J, is to add a new feather to her cap as a reporter for globetrotting travel show Getaway. "I'm just growing up," she told TV Week. "Sooner or later I have to move out of children's TV and throw myself into the fire of prime time." Rowntree joining Getaway comes as one of its existing reporters, Tina Dalton, leaves the program to pursue making documentaries. Producer Adrian Swift has told TV Week that as well as signing up Rowntree the show is looking to hire an additional reporter. "With Tina going I feel we need another 'naturalist' reporter for the show," he told TV Week. "We are casting our net wide now for such a person."
Briefly…
Neighbours' upcoming season final is set to reveal the secret relationship between Annalise and Stonie (Kimberley Davies and Anthony Engelman, pictured) to Annalise's boyfriend, Sam (Richard Grieve), and Stonie's mother, Angie (Lesley Baker). The storyline marks Davies' departure from the series, with the actress about to go on the pantomime circuit in the UK as well as co-hosting Nine's Just Kidding.
Former Echo Point star Martin Henderson has said yes to a part in Network Ten's upcoming teen drama, Sweat, which is due to go into production this month in Perth.
There is speculation that the Seven Network is set to drop its 6.30 current affairs show Today Tonight in Sydney and Melbourne and replace it with a sports program. But there is concern that while Seven has the AFL and commentator Bruce McAvaney in Melbourne, the fact that Nine has rights to the rugby league in Sydney may be problematic.
Looking Good host Deborah Hutton (pictured) has been admitted to hospital with a disc protrusion in her spinal column. "She was admitted to hospital with intense pain and put on a morphine drip," a Nine Network spokesperson told TV Week. With five weeks of shooting still to go on Looking Good it is unlikely that Hutton will be back on the show in the short term. Replacing her as host in the interim is Jo Bailey.
TV's Top 20 (Week Commencing 22 October): 
| | | | | |
| --- | --- | --- | --- | --- |
| Rank | Program | Network | Day(s) | Viewers |
| 1 | This Is Your Life | Nine | Thu | 2152000 |
| 2 | National Nine News | Nine | Sun | 2109000 |
| 3 | 60 Minutes | Nine | Sun | 2058000 |
| 4 | RPA | Nine | Thu | 1841000 |
| 5 | Blue Heelers | Seven | Tue | 1834000 |
| 6 | The Nanny | Ten | Wed | 1809000 |
| 7 | Getaway | Nine | Thu | 1792000 |
| 8 | Our House | Nine | Wed | 1698000 |
| 9 | A Current Affair | Nine | M-F | 1661000 |
| 10 | Money | Nine | Wed | 1626000 |
| 11 | National Nine News | Nine | M-F | 1612000 |
| 12 | The X Files | Ten | Wed | 1611000 |
| 13 | The Great Outdoors | Seven | Tue | 1608000 |
| 14 | Australia's Funniest Home Video Show | Nine | Tue | 1596000 |
| 15 | Home Improvement | Seven | Sun | 1589000 |
| 16 | The Man From Snowy River | Nine | Sun | 1578000 |
| 17 | Better Homes And Gardens | Seven | Tue | 1558000 |
| 18 | Gladiators | Seven | Sat | 1557000 |
| 19 | The Simpsons | Ten | Wed | 1554000 |
| 20 | Sale Of The Century | Nine | M-F | 1550000 |
Program Highlights (Melbourne, November 11-17):
Saturday: ABC and Ten both indicate that they will taking a minute's silence at 11am for Remembrance Day, while Seven will have the special Australia Remembers at 11am. Stakes Day (11am, Ten), the final event of the Melbourne Cup Carnival, is live from Flemington Racecourse, with coverage hosted by Tim Webster, Marie-Louise Theile and Peter Donegan. Day Three of the First Test (10.50am, Nine) is live from Brisbane, but coverage takes a 90-minute break for the First Qualifying Session for the Australian Grand Prix (1pm, Nine), live from Adelaide. Beyond 2000 (5.30pm, Ten) presents a special episode on the booming world of the internet and its effects on various parts of our lives — including crime, entertainment, medicine, entertainment and dating. Elle McFeast (Libbi Gorr) hosts The 20th Anniversary Of The Whitlam Dismissal (9.30pm, ABC), produced from Old Parliament House in Canberra.
Sunday: The Australian Grand Prix (11am, Nine) is live from Adelaide, with coverage hosted by Ken Sutcliffe and commentators including Murray Walker, Jackie Stewart, Barry Sheene, Jonathan Palmer, Andrew Voss, Tim Sheridan and Darrell Eastlake. In the series final of Heartbreak High (5.30pm, Ten), with the pressure of departmental threats to close the school, Deloraine (Stephen O'Rourke) has a heart attack. Sunday night movies are Sister Act (repeat, Seven), Dave (Nine) and City Slickers (repeat, Ten).
Monday: Four Corners (8.30pm, ABC) and Media Watch (9.15pm, ABC) present their final shows of the year. Andrew Daddo hosts the special Seven's Salute To Comedy (8.30pm, Seven), taking a look at the history of Australian comedy on television — including flashbacks to The Mavis Bramston Show and The Norman Gunston Show, as well as more recent shows Fast Forward, The D Generation and Denton.
Tuesday: Consumer affairs program The Investigators (8pm, ABC) presents its final episode. In Blue Heelers (8.30pm, Seven), after restoring an old motorcycle in Sal's (Gerard Kennedy) garage, Wayne (Grant Bowler) is thrilled to learn that the bike is worth thousands of dollars. In GP (8.30pm, ABC), a relaxing game of cards at the Ross Street surgery on a quiet Sunday afternoon turns into chaos when bride-to-be Janet (Georgie Parker, pictured) crashes her car outside the surgery; and when she is brought in for a check-up she bumps into Dr Henry King (Steve Bisley), with whom she slept the night before!
Wednesday: In Bordertown (8.30pm, ABC), kiosk-keeper Maeve (Kim Hillas) is thrilled when Dante (Petru Gheorghiu) shows her some affection, but then he backs off when he remembers his absent wife.
Thursday: In Home And Away (7pm, Seven), Travis (Nic Testoni) takes a job as a hospital orderly; and Chloe (Kristy Wright) tells Jack (Daniel Amalm) she no longer loves him.
Friday: The Second Test (10.50am, Nine), Australia versus Pakistan, begins from Hobart. In Neighbours (6.30pm, Ten), Brett (Brett Blewitt) and Susan (Jackie Woodburne) depart for their African adventure.
Source: TV Week (Melbourne edition), incorporating TV Times and TV Guide. 11 November 1995. Southdown Press