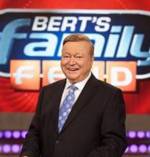 Although he has been under contract with the Nine Network since 2006, having returned after 20 years and a lengthy stint as host of Ten's former daytime flagship Good Morning Australia, Bert Newton has not made an appearance on the network since last hosting 20 To 1 in 2010.
However, he will be making an appearance as a celebrity contestant on Nine's afternoon game show Hot Seat — ironically, a game show in the same timeslot as the ill-fated Bert's Family Feud (pictured) — hoping to raise money for the charity Sids And Kids Australia.
Speaking to The Age, Newton says that his lack of appearance at Nine is nothing of concern.  He is being kept busy with various theatre commitments and his contract with Nine, which still has a few years to go, still earns him a six-figure sum.  So although he has no hosting role at the network, they will call on him from time to time to discuss such things as his reported health scare in Singapore last year — and while he and wife Patti appeared in an interview on A Current Affair a few years ago to discuss troubled son, actor Matthew, that is a topic that he will not discuss now, except that "I'm sure there is a happy ending waiting for us."
And with the long-awaited return of Big Brother about to hit screens (the first episode was taped yesterday for screening tonight), will Newton be called upon to make an appearance?  He responds with a chuckle:
"Look, I think I might give that a miss.  Although when I was at Ten I did a guest appearance on Big Brother. I think it was the first time in the whole of my television career that I had no idea what was going on, why I was locked away in this house talking to people I'd never heard of, about things I didn't care about. It was only 12 hours but it felt like the Christmas holiday and I'd gone to the wrong location."

"Having said that, when Nine calls and asks me to do a guest appearance on Big Brother, the answer is going to be yes. I'm very happy with that contract."
The full story, by Karl Quinn, can be found at The Age.
Hot Seat. Weeknights 5.30pm (returns tonight), Nine/WIN/NBN.
Big Brother. Starts tonight (Monday) 7.00pm, Nine (WIN/NBN check local guides).