29 July 1972: Lucy Kiraly (Tattslotto)
29 July 1972: Prime Minister William McMahon and Opposition Leader Gough Whitlam
29 July 1978: Mike Walsh (The Mike Walsh Show)
29 July 1995: Corey Glaister and Dieter Brummer (Home And Away)
29 July 2000: Carla Bonner, Kym Valentine, Dan Paris (Neighbours)
29 July 2006: Isabel Lucas and Jodi Gordon (Home And Away)
---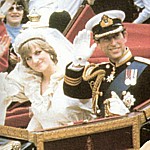 29 July 1981: The Royal Wedding of Prince Charles and Lady Diana Spencer. The event was given saturation coverage on ABC and commercial stations across Australia. ADS7 in Adelaide was one of the few commercial stations in Australia to provide an alternative to the live coverage, instead playing a John Wayne movie and screening a delayed telecast of the wedding the following day. — Royal Weddings: 1981 and today [2011]
29 July 1984: The Opening Ceremony of The Games Of The XXIII Olympiad, live from Los Angeles, begins two weeks of Olympic Games telecast on the Ten Network. With no Ten outlet in Perth the rights to broadcast the Games are shared between local channels TVW7 and STW9 — with Seven having the Opening Ceremony and the first week of competition, and Nine having the second week of competition and the Closing Ceremony.
29 July 1991: Ten's music video show Coca-Cola Power Cuts, previously seen on Sunday afternoons, now moves into the 5.00pm Monday to Friday timeslot, followed by game show Blind Date with Greg Evans and new co-host Ankie Nordberg (pictured).
29 July 1996: Includes Day 9 of The Games Of The XXVI Olympiad from Atlanta, USA, while Ten's All-Star Comedy Relay presents a compilation of special guest episodes of its US comedies to provide an alternative to the Olympics — featuring The Nanny (guest star Shari Lewis), Seinfeld (Bette Midler), The Single Guy (Julia-Louis Dreyfus) and The Naked Truth (Tom Hanks).