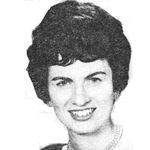 Geraldine Dillon, one of Australia's first TV culinary experts, has died at the age of 84 after a long battle with Hodgkin's lymphoma.
Born in Melbourne in 1936, Dillon first studied cooking in Melbourne before leaving for Europe to study at Le Cordon Bleu culinary school in London. On her return to Australia, she was hired as an assistant on the Sydney-based series, Cordon Bleu Kitchen, hosted by Muriel Downes.
Dillon was then appointed Home Service Adviser for the Gas and Fuel Corporation of Victoria and presented cooking demonstrations for department store Myer.
From 1960, she presented a cooking segment on the daytime show Thursday At One. This segment then became a separate series, Fun With Food, which aired on Friday afternoons on Melbourne's GTV9. She also wrote a weekly magazine column in TV Times magazine from November 1963.
She continued to travel extensively to experience food trends overseas and to bring her newfound knowledge back to share with viewers.
In 1971, she began hosting TV Kitchen, broadcast through the Nine Network. Recipes from the program were published in The Australian Women's Weekly.
TV Kitchen continued through to 1976.
Dillon also wrote for The Herald and The Age newspapers and presented a cooking segment on radio 3AK. Her book, The Geraldine Dillon Cookbook, sold out on its first release.
She also ran cookery schools and continued to conduct food tours overseas.
Geraldine Dillon is survived by her three brothers, John and Reverend fathers Brendan and Kevin as well as her nieces, Marion and Christine and nephews, Andrew, Michael, Robert and John.
Source: Sydney Morning Herald, Melbourne Catholic. The Australian Women's Weekly, 25 September 1968, 24 February 1971. TV Times, 6 November 1963.