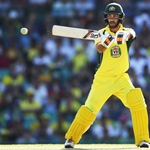 Two weeks ago the Nine Network had announced that it had committed $300 million to a five-year deal with Tennis Australia — taking the game from the Seven Network, which had broadcast events such as the Australian Open for decades.
At the time it was unclear what the outlook was for Nine's future in cricket. Nine had dominated cricket coverage since the 1970s, when its owner Kerry Packer created his rogue contest World Series Cricket, but the Tennis Australia deal meant it had just signed up to a new summer sport. However Nine still went in, with Network Ten, to bid for the upcoming cricket rights package.
As it turns out, Cricket Australia has instead opted to award the next broadcast rights package to Foxtel, which lodged a bid with Seven West Media (the Seven Network).
The deal, worth just under $1.2 billion for six years, will see Seven have coverage of all Test matches involving Australia, 43 Big Bash League matches, including finals, as well as women's international matches involving Australia and 23 ''key'' Women's Big Bash League games.
Foxtel will have all One Day International matches, all International T20 matches, all Test matches involving Australia, all Big Bash League games (16 exclusive to Foxtel),  13 domestic one day matches and the domestic Sheffield Shield final. Foxtel will also have 23 Women's Big Bash League games and shared rights to stream cricket on mobile devices with Cricket Australia.
Seven and Foxtel will each have their own commentary teams, with reports suggesting that both may pick up some of Nine's commentators.
While Seven and Foxtel appear to be winners in the deal, some cricket fans may see themselves as the losers as some matches previously on free-to-air and supposedly protected on the anti-siphoning list will now be behind a Foxtel "paywall".
The other loser in the deal is Network Ten, which has built up Big Bash League over the last five years to be its premier sports brand over summer. Ten CEO Paul Anderson said in a statement: ""We are disappointed that our bid for the cricket television rights was rejected.  Network Ten turned the Big Bash League into the television phenomenon it is today and one of the most popular sports in Australia, a sport that all Australians were able enjoy for free. We had planned to extend that innovation to other forms of the game."
Cricket Australia CEO James Sutherland has acknowledged the contributions made by both Nine and Ten:  "Our thanks go to Channel Nine, who for more than 40 years has broadcast international cricket at a world-renowned standard – and in so doing has done more to promote our sport than any organisation in Australian cricket history. Our sincere thanks also to Network Ten for their role in taking the Big Bash League to a new level, and for so willingly providing a platform to launch and grow the Women's Big Bash League. As a startup League, the BBL is a phenomenal success story. Over the last five years Ten has made an extraordinary contribution to the league and its growth in bringing new fans to cricket."
"We have nothing but gratitude and respect for Nine and Ten – and sincerely thank them for their contribution to our sport.
"We're very excited about what the future holds with both Fox Sports and Seven West Media."
All the key details from Cricket Australia's landmark broadcast agreement. MORE HERE: https://t.co/yQ2P9m5wOu pic.twitter.com/TYhXcFl10c

— cricket.com.au (@CricketAus) April 13, 2018
Source: Cricket Australia, Sydney Morning Herald