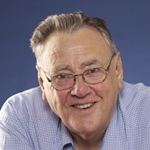 Nigel Dick AM, one of Australia's first and widely experienced TV executives, has died at the age of 89.
Born in the UK in 1928, he came to Australia in the 1940s and by the early 1950s was working in sales for Frank Packer's Consolidated Press.
When Packer, who owned TCN9 in Sydney, bought Melbourne's GTV9 in 1960, creating Australia's first commercial "network" between the two cities, Dick was GTV's general manager and later CEO.
He was instrumental in expanding the company's presence in radio, leading the purchase of 3AK in Melbourne and later a network of 6PM Perth and regional stations in Western Australia.
He later become chairman of HSV7, Melbourne, and a director of its parent company, The Herald And Weekly Times Ltd. This was in 1969, when the Seven Network was taking an aggressive strategy to topple Nine's ratings dominance with the "Seven Revolution" campaign and programming revamp.
He then returned to the Packer group, heading its television and radio interests, before a subsequent parting of ways. He declined Reg Ansett's offer for the role of CEO of Austarama Television (ATV0) and instead joined the regional Victorian Broadcasting Network.
The company's assets included BCV8 Bendigo and GLV10 Gippsland, and it was Dick that instigated the company changing its name to Southern Cross Communications — a name and company that still exists today as part the national television and radio group Southern Cross Austereo.
Dick was later Chief Executive of the Broadcasting Corporation of New Zealand (BCNZ), overseeing two television networks and various radio networks.
At the age of 83, Dick applied to do a doctorate through the University of Melbourne. He decided to make the 1953-54 Royal Commission into the introduction of television in Australia the subject of his thesis, arguing that the government's granting of multiple commercial licences to relatively small markets stifled the quality and vitality of Australian television.
As well as his extensive media career, he had also served as chairman of the Royal Automobile Club of Victoria (RACV) and founding director and chairman of Odyssey House in Victoria.
In 2010 he was announced as Senior Australian of the Year (Victoria).
Nigel Dick is survived by wife Beverley, three children and their families.
Source: The Age, Radioinfo, The Citizen, Odyssey House Victoria, Australian Of The Year