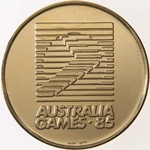 We might have done okay at the Olympic Games and better at the Commonwealth Games… but it seems we still had to have a Games to call our own.
The inaugural Australia Games were held in Melbourne in 1985. The competition was timed to feature in Victoria's 150th anniversary celebrations. But despite the name it wasn't purely an Australian event. Over 2000 competitors from 25 countries took part in 23 sports over the ten days of competition.
And then the Australia Games were seemingly never heard from again?
The Opening Ceremony of the Australia Games took place 30 years ago, Saturday 26 January 1985, at the Melbourne Sports And Entertainment Centre and features in the latest batch added to the Classic TV Guides.
Picture: Museum Victoria