All fired up!
Working in steamy Queensland, wearing heavy fire-fighting gear all day and filming among real flames, you can hardly blame Georgie Parker for describing the five-month making of her new series Fire as "a nightmare". "It was extraordinarily difficult," she told TV Week. "The conditions affected everyone's mood. There were a lot of tempers flaring, a lot of volatile situations… but in a strange way the tension bonded us together. It was most unglamorous shoot I've done in my life. But that was part of the bonding again, because we were all the same — we all looked like s***!". Parker plays the role of Morgan Cartwright, the first female firefighter in Brisbane (in 1995 there are none in real life). Also starring in the series are Peter Phelps, Deborra-Lee Furness, Max Phipps, Shane Feeney-Connor, Andy Anderson, Liddy Clark, Wayne Pygram, Tayler Kane and Aaron Jeffery.
Rebel with a cause
Vince Poletto, a 22-year-old graduate from NIDA, is making his first TV appearance as troublesome Matt Logan in Network Ten's Heartbreak High. Matt is a surfing rebel who comes to Hartley High for his last chance at a high school education. "He's had bad dealings with cops before and been kicked out of a lot of schools," Poletto told TV Week. "This is his last chance to finish HSC." And after the death of Nick Poulos (Alex Dimitriades), Matt also strikes up a love triangle with grieving Jody Cooper (Abi Tucker) and her older sister, played by Joy Smithers.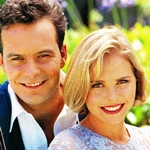 AJ cooks up a show with Andrew
Former E Street star Alyssa-Jane Cook is returning to television in a different role, as co-host of a new Seven Network series, Funniest People, alongside Andrew Daddo. "(Hosting a program) was something that I'd never done before, but something I was interested in exploring," she told TV Week. "The thing is, you have to be able to do a lot of different things in this field, otherwise you're not employable." Funniest People is described as a mix of segments of people doing funny or wacky things with the lure of prizes for the most zany entrants. "It is letting the Australian public have a turn at being fools if they want to be, or stars if they want to be," Cook said. Funniest People debuts next month.
Briefly…
Dan Falzon has quit Neighbours after two-and-a-half years as Rick Alessi. The 20-year-old is planning to pursue a career in television production. Meanwhile, Emily Symons is set to return to Home And Away after three years to reprise her role of ditzy Marilyn.
Artist Services, the production company behind Fast Forward, Full Frontal and Tonight Live, is ending its long and successful relationship with the Seven Network. The company is letting its contract with the network lapse while owners Steve Vizard and Andrew Knight are said to be talking to ABC about two new projects.
Rugby league star Andrew Ettinghausen (pictured) is believed to be a contender to host the new Seven Network game show Gladiators. Another name said to be on the short list is Aaron Pedersen of ABC's Blackout, while Seven sports reporter Johanna Griggs is tipped to be co-host. Gladiators, which has been a hit in the UK, is to be taped in Brisbane and is expected to be slotted up against Nine's Hey Hey It's Saturday.
TV's Top 20 (Week Commencing 8 January): 
| | | | | |
| --- | --- | --- | --- | --- |
| Rank | Program | Network | Day(s) | Viewers |
| 1 | National Nine News | Nine | Sun | 1833000 |
| 2 | A Current Affair | Nine | M-F | 1715000 |
| 3 | National Nine News | Nine | M-F | 1680000 |
| 4 | Cricket: Australia A v England | Nine | Thu | 1453000 |
| 5 | Movie: Summer Rental | Seven | Sun | 1427000 |
| 6 | Cricket: Australia v England | Nine | Tue | 1424000 |
| 7 | Movie: Tricks Of The Trade | Seven | Wed | 1360000 |
| 8 | Seinfeld | Ten | Tue | 1309000 |
| 9 | National Nine News | Nine | Sat | 1294000 |
| 10 | Magical World Of Disney | Seven | Sun | 1283000 |
| 11 | The Bill | ABC | Sat | 1236000 |
| 12 | Mad About You | Ten | Tue | 1214000 |
| 13 | Cricket: Australia v Australia A | Nine | Sun | 1183000 |
| 14 | Northern Exposure | Ten | Tue | 1171000 |
| 15 | The Ren & Stimpy Prime Time Show | Ten | Wed | 1167000 |
| 16 | Our World: Islands Of The Pacific | Nine | Sun | 1160000 |
| 17 | MacGyver | Seven | W/F | 1155000 |
| 18 | Step By Step | Seven | M-F | 1143000 |
| 19 | Backfield In Motion | Seven | Mon | 1137000 |
| 20 | ABC News Late Edition | ABC | Sat | 1116000 |
Lawrie Masterson: The View From Here:
"The TV Week Logie Awards, almost since their inception in 1959, have recognised the importance of new talent and programs aimed at young viewers. Unfortunately, the history of the Logie Awards has not been all that well documented. As far as I can discover from the research material available, it wasn't until 1969 that an award was introduced specifically for "new talent". Initially it was called the George Wallace Memorial Logie, but this practice was discontinued, for some reason, in 1978. That first George Wallace Award was won by Gerard Kennedy (pictured), who later went on to prove he had been a worthy recipient (he won the Gold Logie in 1971 and 1972). Many others who followed in his footsteps went on to become major luminaries in Australian, and sometimes international, showbusiness — notable among them are Paul Hogan (1973), John Waters (1975), Garry McDonald/Norman Gunston (1976), Gary Sweet (1982), Peter O'Brien (1986), Jason Donovan (1987), Georgie Parker (1990) and Kym Wilson (1992). I am not trying to suggest that their Logie Awards made them what they are today, but recognition is important, especially for emerging talent, and the Logies should continue to encourage those new on the scene."
Program Highlights (Tasmania, January 28-February 3):
Saturday/Sunday: The Fourth Test, Australia v England, continues from the Adelaide Oval (11.20am, WIN), up against the finals of the Ford Australian Open (1pm Saturday, 12pm Sunday, Southern Cross Network) from Melbourne.
Sunday: Sunday night movies are Body Double (WIN) and Cold Steel (SCN).
Monday: Don Lane (pictured) hosts live coverage of the NFL Superbowl XXIX (10am, ABC) from Miami, Florida, between San Diego Chargers and San Francisco 49ers. Current affairs program Eleven AM (11am, SCN) returns for another year, while the new Today Tonight (6.30pm, SCN) replaces Real Life, with Neil Mercer hosting the NSW edition also seen in Tasmania. The Tasmanian edition of The 7.30 Report (ABC) makes its new year return, hosted by Judy Tierney.
Tuesday: The Seven Network special Homicide — 30 Years On makes its appearance in Tasmania (10.35pm, SCN), featuring footage of the classic cop show and interviews with some of those involved in the series.
Wednesday: Actress Nell Scofield hosts The Australian Collection (8.30pm, ABC), a presentation of six award-winning short films. Among the films presented is cartoon The Darra Dogs, winner of Best Animation at the 1993 AFI Awards.
Thursday: Wildlife With Olivia Newton-John (7.30pm, WIN) makes its debut, with Olivia Newton-John joined by reporters Simon Reeve, Samantha Kume and Michael Beatty.
Friday: The Fifth Test, Australia v England, begins from the WACA in Perth (1.20pm, WIN). The Davis Cup tennis, Australia v South Africa, is live from South Africa (10.30pm, SCN).
Source: TV Week (Tasmania edition), incorporating TV Times and TV Guide. 28 January 1995. Southdown Press