Cover: Pamela Anderson (Baywatch)
Beauty and the beast
Getaway reporter Tina Dalton's documentary Flight Of The Rhino is to screen on the Nine Network this week. The documentary shows both the efforts to save the African black rhinoceros, which is being hunted for its precious horns, and the horrifying, yet necessary, steps to save them from the poachers. In Zimbabwe to produce the program, Dalton witnessed a country of stark contrasts. "Real beauty and the beast," she told TV Week. "One moment the sun is setting, we're sitting on the roof of the four-wheel-drive, watching wildebeest come in to drink, and the next there's machine gun fire and someone says some poachers have just been shot." Flight Of The Rhino has already been screened in the United Kingdom, Canada, Germany, Japan and the United States.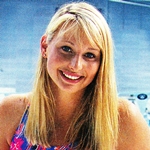 Pooled resource
Swimmer turned Sportsworld reporter, Johanna Griggs (pictured) is excited to provide a guided tour of the new Sydney Aquatic Centre, the site for the 2000 Olympic Games swimming events. "You can finally feel that the Olympic Games are really on their way here, and we have a swimming venue that is undoubtedly the best in the world," she told TV Week. "I have been speaking to overseas swimmers and they have already heard about this place and are excited about coming here." Griggs' swimming career came to a premature end with her battle with Chronic Fatigue Syndrome, but she has been made offers to return to the pool. "If I do go back, what if I only came second? Like during the recent Commonwealth Games, I was more excited to be reporting on it and I really did not miss it. That answers my question really, doesn't it."
Genevieve's new public relationship
Genevieve Mooy (pictured) has become familiar to viewers of the series Frontline as TV publicist Jan Whelan — whose job to steer the image of current affairs host Mike Moore (Rob Sitch) to the public provides inevitable challenges. While Mooy loves the character, with the obligatory "daahlings", meticulously styled hair and the big frocks and jewels, the character has obviously ruffled some feathers from within the industry. "Oh, I've received some extraordinary faxes," she says. "Like, 'so-and-so is hopping mad — she knows it's her!'. Frontline has been rather gorgeous for me, really, because for some reason everyone loves Jan and she's really such a monster… a nice monster." Mooy will also be seen later in the year in a new ABC series, After The Beep, co-starring with Genevieve Lemon. "It's a wonderful story about a bunch of losers and how they try passionately to organise their lives," she said. Mooy plays the role of bridal shop owner May. "And she happens to be a lesbian. It is an issue that is now in the open and it needs to be explored on the screen much, much more. I think the writer wants it to be explored in a way so that it's not seen as unusual."
Briefly…
The bidding war between BBC and ITV for Australia's Blue Heelers has been won by ITV, which will begin screening its first instalment of 52 episodes later this month. Lisa McCune, who plays Constable Maggie Doyle, will be going to the UK to promote the series launch. Blue Heelers has already been sold to 30 countries across Asia and Europe.
It is years since Crocodile Dundee II was released in the US, but while filming a story for The Great Outdoors in Disneyland, Ernie Dingo still found himself getting recognised from his role of Charlie in the movie.
Neighbours star Peta Brady has a very different role in the upcoming film Only The Brave. She plays tough, bitchy Tammy, who beats up her former best friend with a piece of pipe!
TV's Top 20 (Week Commencing 1 January): 
| | | | | |
| --- | --- | --- | --- | --- |
| Rank | Program | Network | Day(s) | Viewers |
| 1 | National Nine News | Nine | Sun | 1856000 |
| 2 | National Nine News | Nine | M-F | 1761000 |
| 3 | A Current Affair | Nine | M-F | 1641000 |
| 4 | National Nine News | Nine | Sat | 1404000 |
| 5 | Seinfeld | Ten | Tue | 1379000 |
| 6 | Mad About You | Ten | Tue | 1352000 |
| 7 | Blossom | Seven | Thu | 1337000 |
| 8 | Diagnosis Murder | Nine | Thu | 1300000 |
| 9 | Step By Step | Seven | M-F | 1272000 |
| 10 | MacGyver | Seven | W/F | 1235000 |
| 11 | Seven Nightly News | Seven | M-F | 1232000 |
| 12 | Full Frontal | Seven | Thu | 1197000 |
| 13 | Over The Hill | Seven | Mon | 1166000 |
| 14 | Northern Exposure | Ten | Tue | 1154000 |
| 15 | The Bill | ABC | Sat | 1153000 |
| 16 | Movie: Firestorm | Nine | Sun | 1149000 |
| 17 | Movie: Mike Hammer Murder Takes All | Nine | Wed | 1123000 |
| 18 | Reasonable Doubts | Seven | Tue | 1094000 |
| 19 | As Time Goes By | ABC | Mon | 1091000 |
| 20 | The Mummies | Seven | Thu | 1088000 |
Program Highlights (Melbourne, January 21-27):
Saturday: The Ford Australian Open (11am, Seven) continues its coverage all this week. Neil Brooks, Dennis Cometti and Andy Raymond are commentators for the telecast of the Sydney International Aquatic Centre Official Opening (7.30pm, Seven), including the opening of the "Path of Champions" featuring Dawn Fraser and Murray Rose.
Sunday: Our World (6.30pm, Nine) features the special Tina Dalton's Flight Of The Rhino, looking at efforts to save Zimbabwe's black rhinoceros. Sunday night movies are Passed Away (Seven), Ghostbusters II (repeat, Nine) and Sweet Liberty (repeat, Ten).
Monday: Sale Of The Century (7pm, Nine) returns for another year. In Home And Away (7pm, Seven), Pippa (Debra Lawrance) and Michael (Dennis Coard) attend their first counselling session. In Over The Hill (7.30pm, Seven), Don (Nicholas Eadie, pictured) comes up with a plan to market Short Bob's (Roy Billing) tomato relish.
Tuesday: Lifestyle show Better Homes And Gardens (7.30pm, Seven) makes its debut, hosted by Noni Hazlehurst and John Jarratt with presenters Fiona Connelly, Belinda Jeffrey, Colm O'Leary and Tony Fragar. The Great Outdoors (8pm, Seven) makes its series return in a new timeslot on a new night.
Wednesday: The presentation of Australian Of The Year (8pm, ABC) is broadcast live from the Museum of Contemporary Art, Sydney. Spirit 2000 (8.30pm, ABC), the first of a seven-part series to screen over the next six years, traces the journey of a group of young athletes as they compete for selection for the Australian team at the 2000 Olympic Games. Three years after she retired from the stage, the series final of A Life (9.30pm, ABC) takes a look back at the career of Dame Joan Sutherland.
Thursday (Australia Day): The Fourth Test (11.20am to 1.30pm, 2pm to 6pm, Nine), Australia versus England, is live from Adelaide. Australia Day is marked with the Governor General's Australia Day Address (6.50pm, ABC). The Grand Final of the Beyond 2000 Technology Challenge (7.30pm, Ten) features the top 10 schools chosen for their talent in creating a complex machine to slam dunk a basketball through a basketball hoop. In the series return of Janus (8.30pm, ABC), charged with murder and facing a life in prison, Mal Hennessey (Brett Swain, pictured) makes an escape on the way to court. The 1988 two-part mini-series The Shiralee (8.30pm, Seven) gets a repeat screening, starring Bryan Brown, Noni Hazlehurst and Rebecca Smart.
Friday: The Fourth Test (11.20am, Nine) continues from Adelaide. In Neighbours (6.30pm, Ten), Lou (Tom Oliver) faces a sad farewell.
Source: TV Week (Melbourne edition), incorporating TV Times and TV Guide. 21 January 1995. Southdown Press