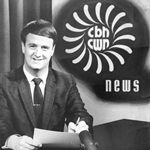 Earlier this year regional television station CBN8, based in Orange and serving the Central Tablelands district in New South Wales, celebrated its 50th anniversary.
Stephen Fleay (pictured), an on-air presenter and musician at the station back in the 1960s and now based in Indonesia, has compiled a collection of archival material from those early days of CBN8.
The collection includes original photographs taken at the time by Fleay as well as various archival footage — including the opening of CBN8's sister station CWN6, Dubbo, in 1965, and tributes to the station's Christmas pantomime In The Land Of Old King Cole (1965) and to one of CBN8's earliest presenters, Stan Murray.
The CBN call-sign is now part of the Prime7 regional network.  The CBN component of the network expanded throughout Southern NSW and ACT with the advent of aggregation in 1989 as an affiliate of the Seven Network.
Anyone interested in purchasing a copy of CBN8 — A Look Back In Time are advised to contact Stephen Fleay via his website.