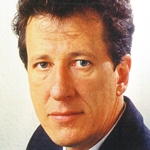 Oscar-winning actor Geoffrey Rush (pictured) was last night announced as our Australian of the Year in recognition of his contribution to the arts.
The 60-year-old, who this year celebrates 40 years in the industry, gained international fame in 1996 for his portrayal of pianist David Helfgott in the movie Shine which led to him winning the Academy Award for Best Actor.
Despite much of Rush's acting work being in the theatre and on film, the Queensland-born actor has also worked in television.  He made his TV acting debut in the ABC mini-series Menotti in 1981.
He later appeared in Twisted Tales and played the lead role of newspaper editor Bill Wyatt in the 1996 series Mercury.
Rush also made a guest appearance in Kath And Kim in 2004.
Also on this Australia Day, a number of television identities were among the hundreds recognised in this year's Australia Day honours list:
Maggie Beer – "For service to the tourism and hospitality industries as a cook, restaurateur and author, and to the promotion of Australian produce and cuisine."  Beer was a co-presenter on the popular ABC series The Cook And The Chef for five years and has also been a regular guest on MasterChef Australia.
Jamie Durie – "For service to the community as an ambassador and supporter of a range of charitable and environmental organisations, and as a landscape designer."  Durie came to national fame as the presenter of Backyard Blitz and The Block.  He has more recently appeared on the Seven Network's The Outdoor Room and gained international fame when he caught the attention of Oprah Winfrey.
Gus Mercurio (posthumously) – "For service to boxing as an administrator and sports commentator, as a film, television and stage actor, and to the community."  Mercurio appeared in numerous television series over his career, including period dramas Cash And Company, The Sullivans, Power Without Glory, Tandarra, Five Mile Creek and All The Rivers Run, and was a boxing commentator for 12 years.
Oscar Whitbread – "For service to the Australian film and television industry."  Whitbread has been a television producer since the 1960s, working on ABC dramas including Bellbird, Marion, And The Big Men Fly, Power Without Glory, Rush, Catspaw, The Truckies, Outbreak Of Love and I Can Jump Puddles.  He later worked on The Flying Doctors, Ratbag Hero, Cluedo and Acropolis Now.
Source: ABC, Governor-General of Australia, IMDB, IMDB.