Barely ten days ago, Studio 10 celebrated its tenth anniversary with a star-studded tribute.
Now, Network Ten has announced that the show has been axed, making its last appearance on 22 December.
Created by former Nine Network producer Rob McKnight, the mid-morning show began in 2013 in tandem with another big investment, the breakfast show Wake Up. Wake Up, created by former Sunrise boss Adam Boland, was only on the air for six months.
When it debuted Studio 10 offered a point of difference to its mid-morning rivals on Seven and Nine by presenting a panel of presenters — Jessica Rowe, Ita Buttrose, Sarah Harris, Joe Hildebrand, and a guest fifth host — instead of two hosts, and having a studio audience.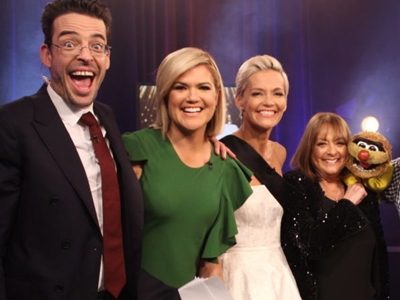 The line-up went through some changes — Rowe and Buttrose left, while others to have occupied hosting roles on the show included Denise Drysdale, Denise Scott and Kerri-Anne Kennerley.
The late Jonathan Coleman presented advertorials, Craig Bennett reported on showbiz, and David Robinson, Scott Tweedie and Daniel Doody were roving reporters.
The show's ratings started to fall when it lost its main points of difference. The studio audience was gone when the pandemic hit. Financial stress later in the year saw the hosting line-up at Studio 10 reduced to just two — Harris and former Dancing With The Stars judge Tristan MacManus replacing Hildebrand, before Harris herself left last year to join The Project. Angela Bishop and Narelda Jacobs then joined MacManus on the show's hosting couch.
Ten has issued a statement on the show's cancellation:
"Network 10 today announced that the last episode of Studio 10 will air on Friday, December 22 after more than a decade on Australian screens.

"Studio 10 has been a great contributor to Network 10's daytime program lineup. We would like to sincerely thank all those who have participated in and supported the program over the past decade and to the millions of viewers who tuned in over that time.

"It has been a show that has provided copious amounts of feelgood fun, joy, passion, heart, entertainment, and unforgettable moments all against the backdrop of live television.

"Although we are sad to be farewelling the program, the decision to cease production of Studio 10 comes after a change in viewing habits in daytime television.

"In 2024 there will be a new morning lineup with an increased focus on news and current affairs later in the day.

"The hosts of Studio 10 – Angela Bishop, Narelda Jacobs and Tristan MacManus, with special roving reporter Daniel Doody – will remain with the network in different roles and many of the staff will be redeployed."