Blue Heeler's tragic exit
Dramatic scenes in this week's Blue Heelers will see Constable Wayne Patterson tragically killed, but actor Grant Bowler (pictured with Lisa McCune) is glad to be gone. "Part of the reason I left the show is because I thought I no longer had a lot to offer it creatively," he told TV Week. "After two-and-a-half years I was burnt out. I wasn't operating on all cylinders." The episode sees Constable Patterson crossing paths with notorious criminal Joe Kenny (Anthony Lawrence). Kenny has escaped from prison, seeking revenge on Patterson for the brief affair he had with Kenny's wife, Kate (Rebecca Rigg). Since leaving Blue Heelers in December, Bowler has been working on stage in Sydney and also runs a production company with two friends. "At the moment it's very successful, and I'll probably be travelling with the company later in the year," he said.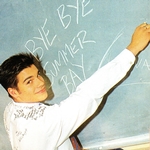 Why I had to get out!
Daniel Amalm (pictured) has revealed the real reasons behind his decision to quit Home And Away. The 17-year-old, who had played Jack Wilson in the soap for three years, had become disillusioned and a little paranoid about the public attention that comes with soapie stardom. "Even just going out in public, I didn't realise how seriously people take the show," he told TV Week. "I don't mind if girls come up and ask for your autograph, that's cool. But you get a lot of people too who want to test your strength, because you're on the show — the guys especially." Amalm had also received death threats. "I had a couple of phone calls, death threats that said, 'We're going to shoot you' and stuff like that. It doesn't scare me because I don't let it." He also chose to leave the show because his profile was leading to so-called friendships that were not entirely genuine. "You find them doing something and you think, 'They're just hanging with me because I'm on television'," he said. Home And Away producer Russell Webb was disappointed to lose Amalm from the cast but is hopeful to be able to lure him back for a guest role later this year.
Simon's LA story
To say Simon Baker-Denny's (pictured) time in Los Angeles has been eventful is quite an understatement. Since arriving in LA on Christmas Day, he has had his car broken into and witnessed how quickly violence can escalate in Hollywood — with one incident in a diner where the owner started shooting at two guys stealing beer. On a more positive note, he has been busy setting up his profile with producers. "I've had more appointments here in two months than in Australia in two years!," he told TV Week. "In Australia, you're lucky if you get a couple of meetings a month. And you don't even call them meetings in Australia!" He was close to scoring a key role in the new Western series, Shaughnessy. The shortlist came down to him and one other actor. They chose the other candidate. "People say I was close, but you could probably go for 20 years in this town getting that close and never getting anything. It just sounds so bizarre." Before leaving Australia, Baker-Denny had been doing an eight-week stint on Heartbreak High and had the lead role in the one-off drama The Blind Side Breakaway, an episode of the ABC series Naked: Stories Of Men that had screened recently. He will also be seen on screen later this year in two episodes of Network Ten's upcoming sports drama, Sweat.
Melissa's AIDS drama
Melissa Tkautz has spoken out about her character Bethany's HIV diagnosis in the new Nine Network series Pacific Drive. "It's 1996 and it's about time there was an ongoing HIV character on television," she told TV Week. "I did ask in what context we were going to do it. I asked if I was going to be sick on the show, but they said, 'Not at all. That is the whole reason why we are doing it. We want to show people that just because you are HIV positive, you're not going to be sick in bed'. It's about time more people understood the subject matter. They think, 'If I sit next to an HIV person I'm going to get AIDS'."
Briefly…
Hollywood actress Holly Hunter is the first international guest star confirmed for this year's TV Week Logie Awards.
Southern Star Xanadu, the team behind Cody and Police Rescue, is working on a new aviation drama starring Gary Sweet. Big Sky is also set to star Jeremy Callaghan (Police Rescue, Water Rats) and Peter Phelps. Production of a pilot has been delayed due to to funding delays from the Film Finance Corporation, and no network has committed to the project as yet. Earlier discussions with Network Ten are believed to have fallen through.
Despite earlier reports, Sigrid Thornton will now not be starring in the planned Nine Network drama Murder Calls (originally titled Murder Calling). Melbourne-based Thornton was reluctant to relocate to Sydney for the production.
Rumours persist that Ten's failed soap Echo Point is to be reinstated. Producers Southern Star Xanadu have recently sold the series to Germany for a generous sum and there is talk of bringing the show back into production to cash in on the overseas market.
Comedian Michael Veitch (pictured) is taking on the role of a gossip columnist in the upcoming ABC series Mercury. His character, the flamboyant Rocco Kostas, is based on a real Melbourne journalist. "But the real guy is not like this at all," he told TV Week. "I went to his house and he's really quite ordinary. What I'm portraying more is the image of what people think a gossip columnist is like." Veitch will also be appearing as a cop in an upcoming guest role in Blue Heelers. "It was a straight dramatic role, and I loved it."
TV's Top 20 (Week Commencing 10 March 1996): 
| | | | | |
| --- | --- | --- | --- | --- |
| Rank | Program | Network | Day(s) | Viewers |
| 1 | Australian Grand Prix | Nine | Sun | 2499000 |
| 2 | Blue Heelers | Seven | Tue | 2107000 |
| 3 | National Nine News | Nine | Sun | 1993000 |
| 4 | A Current Affair | Nine | M-F | 1976000 |
| 5 | The X Files | Ten | Wed | 1839000 |
| 6 | World Cup Cricket: Semi Final (Australia v West Indies) | Nine | Thu | 1766000 |
| 7 | National Nine News | Nine | M-F | 1749000 |
| 8 | Better Homes And Gardens | Seven | Tue | 1718000 |
| 9 | JAG | Seeven | Mon | 1718000 |
| 10 | World Cup Cricket: Quarter Final (Australia v Pakistan) | Nine | Mon | 1717000 |
| 11 | Burke's Backyard | Nine | Fri | 1693000 |
| 12 | The Great Outdoors | Seven | Tue | 1678000 |
| 13 | 60 Minutes | Nine | Sun | 1577000 |
| 14 | Ellen | Seven | Thu | 1573000 |
| 15 | Home And Away | Seven | M-F | 1571000 |
| 16 | Who Dares Wins | Seven | Wed | 1536000 |
| 17 | Babe, You're A Star | Seven | Wed | 1497000 |
| 18 | The Nanny | Ten | Sun | 1475000 |
| 19 | Grace Under Fire | Seven | Thu | 1408000 |
| 20 | World Cup Cricket: Semi Final (Sri Lanka v India) | Nine | Wed | 1408000 |
Program Highlights (Melbourne, March 30-April 5):
Saturday: Qualifying Day of the Gold Coast Indycar (12pm, Ten) is hosted by Bill Woods. The Victorian State Election is covered across ABC (6.30pm, with Ian Henderson, Barrie Cassidy, Antony Green and Beverley O'Connor), Seven (a half-hour wrap-up with David Johnston at 11.35pm, following Saturday Night Football) and Nine (6.30pm, with Ray Martin, Laurie Oakes, Paul Lyneham, Graham Richardson and former Victorian Premier Joan Kirner).  And for election night, Mal Walden presents a special Melbourne edition of Ten News (10.40pm, Ten).
Sunday: Sunday sport includes the Gold Coast IndyCar (11am, Ten), Australian Surf Lifesaving Championships (11am, Nine) and AFL Sunday: Fremantle versus West Coast Eagles (2pm, Seven). Live football continues with Adelaide versus Sydney (5.30pm, Seven), from Football Park, Adelaide. Sunday night movies are Peter's Friends (Seven), Taggart: Flesh And Blood (repeat, Nine) and Major League (repeat, Ten). This week's episode of Naked: Stories Of Men (8.30pm, ABC) is A Fallen Woman, the story of a man who lives in a house under the Harbour Bridge and lets out a room to a young couple.
Monday: Children's game show Time Masters (4pm, Seven) debuts, hosted by Tony Johnston. In Neighbours (6.30pm, Ten), Pam (Sue Jones) upsets the residents of Ramsay Street with her decision for Cody's (Peta Brady) funeral to take place in Darwin.
Tuesday: In Neighbours (6.30pm, Ten), Toadie (Ryan Moloney) is head over heels in love with George (Petra Jared), but she admits she's fallen for another man. In GP (8.30pm, ABC), Lizzy (Lucy Bell, pictured), the temporary receptionist at Ross Street, has some major behavioural problems. In Blue Heelers (8.30pm, Seven), a notorious criminal escapes from remand at St David's Prison, leading to a confrontation with Constable Wayne Patterson (Grant Bowler).
Wednesday: In Home And Away (7pm, Seven), Travis (Nic Testoni) is the first at the scene of the Yabbie Creek High School bus crash. In Fire (9.30pm, Seven), Seldom (Damian Pike) gatecrashes the wedding of Jimmy's (Kim Gyngell) daughter in his bid to crack Jimmy's insurance scam.
Thursday: In Neighbours (6.30pm, Ten), Danni (Eliza Szonert) and Cheryl (Caroline Gillmer) find themselves at odds over Danni's relationship with Ben (Stephen Pease). The internet is the focus of the new technology program HTTP:// The Internet Show (9.20pm, ABC).
Friday (Good Friday): The annual Royal Children's Hospital Good Friday Appeal brings together stars of television, radio, theatre and sport to raise money for the Royal Children's Hospital in Melbourne. The telethon kicks off at 9am (Seven), breaking for a half-hour Seven News (12pm), then continuing through to 6pm. The documentary special Miracle Babies (7.30pm, Seven), narrated by Martin Sacks, tells the story of the many babies from around the world who, fighting for their lives, come to the Neo-Natal Unit at the Royal Children's Hospital. The appeal resumes in the evening with the Royal Children's Hospital Good Friday Variety Benefit (8.30pm, Seven), live from the World Congress Centre, before the telethon returns at 10.45pm ahead of the appeal close at midnight. In a special Good Friday edition of Compass (7.30pm, ABC), a report on the extraordinary life of Father Chu Van Chi, Catholic priest and composer. Other Easter programming includes Turn Round Australia (9.30am, Nine).
Source: TV Week (Melbourne edition), incorporating TV Times and TV Guide. 30 March 1996. Pacific Publications Pty Ltd.