Cover: Gary Sweet
Stars surf into Paradise
Richard Huggett (E Street, Neighbours) and Rebekah Elmaloglou (Home And Away) are the latest to join Nine's Paradise Beach. Elmaloglou is coming in to the series as wild child character Karen Wolfe, while Huggett plays peace activist Sam Dexter (a far cry from the actor's days as menacing Sonny Bennett in E Street!). Elmaloglou says that while Karen Wolfe is "a good role", she admits that in the current environment it's not wise to be too snobby about taking on a role in a TV series. "Five years ago everyone could be very snobby about what they took — they were choosy," she said. "But these days you can't."
Sofie's seriously moving to Nine
Sofie Formica, whose list of credits for the Seven Network include Saturday Disney, Now You See It, Home And Away and The Great Outdoors, is making the move to the Nine Network to co-host its new hidden-camera show, Just Kidding. "A lot of people were under the impression I was contracted to the Seven Network, but I have never been," she told TV Week. "I was a freelance reporter for The Great Outdoors." Formica, who admitted that she had yet to inform Seven of her decision to join Nine, will appear on Just Kidding with Steven Jacobs. Although they are old friends, this is the first time they are working together. "Hopefully the viewers will see Steven and me as the new batch of people who will be around television for the next 20 years," she told TV Week.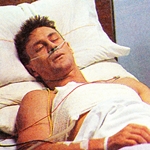 In the gun!
Blue Heelers star Grant Bowler admits he was terrified when a gun was pointed at him for an upcoming episode of the series. "It really, really freaked me out," he told TV Week. "I was distinctly uncomfortable the first time the gun was pointed at me, despite the fact that the safety officer and the armory officer had told me it was safe. After all, a gun is made for one thing, and that's to kill." The episode sees Bowler's character, Constable Wayne Patterson (pictured), in hospital with gunshot wounds that could be fatal.
Briefly…
The Seven Network has noted the ratings success of Nine's former Sex show and had made a pilot of its own sex/lifestyle program, hosted by Dr Feelgood (Sally Cockburn), who hosts Pillow Talk for the Austereo radio network.
There appears to be some friction in the relationship between the D Generation (The Late Show) and ABC over the comedy group's new project, a sitcom reportedly based in a newspaper office. ABC has ordered a pilot before committing to the project, but the D Gen are apparently wanting to go straight into a series.
Home And Away fans hoping to see the return of some former characters in the upcoming movie spin-off may be disappointed. Storylines mapped out for the project are focused on Shane (Dieter Brummer) and Angel (Melissa George), with older characters such as Pippa (Debra Lawrance) and Alf (Ray Meagher) also set to feature.
Lawrie Masterson: The View From Here
"Soon in TV Week, our program listings will carry a series of four or five digits after the titles of prime time series, movies, sports events, talk shows and so on. So, for instance, you will see "Movie: Jurassic Park 12345″. The digits are known as a G-Code and, if you have an ingenious little device that is coming on to the Australian market as we speak, all your VCR programming problems will be solved. The G-Code programmer is likely to be the biggest revolution in television viewing since VCRs themselves, and TV Week is proud to be the first publication in Australia that will carry the code numbers."
Program Highlights (Melbourne, March 5-12):
Saturday: Hey Hey It's Saturday (6.30pm, Nine) features a special Rio Carnival episode, with crosses to Trevor Marmalade and Molly Meldrum at Rio de Janiero.
Sunday: Arts program Sunday Afternoon With Peter Ross (1.30pm, ABC) returns. In Heartbreak High (6.30pm, Ten), the issue of freedom of speech becomes a hot topic after Jodie's (Abi Tucker) inflammatory raps are banned. Comedian Jimeoin (pictured) launches his new comedy series, Jimeoin (7.30pm, Seven), featuring Glenn Robbins, Bob Franklin, Rachel Griffiths, Daina Reid, Tamara Cook, Angus Smallwood and Brian Nankervis. Sunday night movies are Harley Davidson And The Marlboro Man (Seven), Frankie And Johnny (Nine) and A League Of Their Own (Ten).
Monday: In Neighbours (6.30pm, Ten), Brett (Brett Blewitt) tries hypnotherapy to improve his cricket skills. In Mother And Son (8pm, ABC), Maggie (Ruth Cracknell) is determined to do her civic duty and report for jury service, despite protests by sons Arthur (Garry McDonald) and Robert (Henri Szeps).
Tuesday: In Blue Heelers (7.30pm, Seven), Mount Thomas is in shock when Wayne (Grant Bowler) is shot by criminals. Former The Flying Doctors star Lenore Smith guest stars in GP (8.30pm, ABC).
Wednesday: In Home And Away (7pm, Seven), Tug (Tristan Bancks) is involved in a high speed accident when he steals Roxy's (Lisa Lackey) car. In Newlyweds (8pm, Seven), Allie (Annie Jones) is pursued by businessman Kirby Hacker (Rod Mullinar).
Thursday: In Beyond 2000 (7.30pm, Ten), Anthony Griffis looks at the latest fad in California — designed music specially composed to promote mental clarity, de-stress the listener and boost the immune system.
Friday: In The Great Outdoors (now listed as Rex Hunt's The Great Outdoors), Penny Cook looks at different kinds of kites; Frankie J Holden tries shearing at Longreach; Ernie Dingo meets a man who travels to remote communities and teaches circus skills to children; Sofie Formica discovers a wetland in the heart of Sydney; and Bridget Adams and Neil Crompton test drive the Honda Civic sedan.
Source: TV Week (Melbourne edition), incorporating TV Times and TV Guide. 5 March 1994.  Southdown Press