Cover: Christina Applegate (Married… With Children)
Larry's game
With The Price Is Right returning to Australian screens, host Larry Emdur hopes he can live up to the legend. "It's a huge buzz to be asked to do this," he told TV Week. "It's the most difficult thing that's ever been requested of me. This show is legendary… it's the big daddy of all game shows." Sydney-based Emdur, a former reporter for Good Morning Australia and host of The Main Event, will fly to Melbourne each week for taping of the show. The Price Is Right will air in the 7pm timeslot while Sale Of The Century is on summer break. If the show goes well it will continue in a new timeslot in the new year.
Ray calls it a (Mid)day
It was an emotional Ray Martin that signed off from hosting Midday for the last time, after 1819 shows over nine years, as he prepares to take over hosting A Current Affair. The two-hour special included goodbyes to Martin via satellite from Michael Crawford, Nicole Kidman and Henry Winkler, plus appearances from John Farnham, Debbie Byrne, Anthony Warlow, Col Joye, Derryn Hinch, Geraldine Doyle, Gretel Killeen and Effie (Mary Coustas). Martin's wife Diane and mother Mary were also there for his last show. He has no regrets leaving Midday but said he'd go back in a flash. "If someone upstairs had said, 'We've changed our mind. We want someone else to do ACA and we want you to stay', I'd have said, 'Fantastic'. It's such a good feeling doing Midday."
A smashing climax
This year's season final of Neighbours sees two of its most popular characters in a plane crash that could leave one — or both — dead. The storyline has newly licenced pilot Gaby (Rachel Blakely) taking friends for joyrides, but in an instant the fun turns to horror as she loses control of the plane with Annalise (Kimberley Davies) on board. Meanwhile, Brad (Scott Michaelson) and Beth (Natalie Imbruglia) are married prior to their moving to Perth for Beth's new job. The marriage marks the actors' departure from the series. Imbruglia is already in London preparing for the upcoming pantomime season, while Michaelson has a six-week stint coming up in Paradise Beach.
Briefly…
The producers of Brides Of Christ are reported to be planning a sequel to the award-winning mini-series. A script outline, written a year ago, is being floated around and there are plans to bring back original cast members Sandy Gore, Brenda Fricker and Lisa Hensley.
In 1988, Gary Sweet hosted the pilot for a new game show, Treasure Hunt, at NWS9 in Adelaide. The program didn't go ahead but Nine is now considering revisiting the concept with Angry Anderson as host.
Former GP star Michael O'Neill has been signed for the upcoming second series of Law Of The Land, joining Peter O'Brien and most of the show's original cast. Meanwhile, it looks like a second series is out of the question for Nine's Snowy.
Sarah Vandenbergh is the latest to join the list of exiting Neighbours stars. Vandenbergh, who plays Lauren Carpenter, is being written out as producers have found the character had run its course. Vandenbergh, a dancer, is now auditioning for West Side Story.
The ABC documentary Labor In Power is set to screen on BBC. It will be the first time that the British broadcaster's news and current affairs department has shown a production made outside their unit.
Lawrie Masterson: The View From Here
"If it's not true that all is not well within the ABC's drama department — specifically its Melbourne division — then at least that's the impression that's out there. First, the Melbourne-produced Secrets was dumped from the schedule, a move more associated with life at the commercial networks. In ABC terms, it was an extraordinary decision. The remainder of Secrets was kept on ice until now, the traditional summer drought. Then, just a few weeks ago, came a move even more extraordinary — the suspension of production of The Damnation Of Harvey McHugh. With several episodes in the can — and, one assumes, a hefty slice of the budget already spent — The Damnation Of Harvey McHugh was sent back to the workshop. And after that, out went the ABC's head of drama in Victoria, Jill Robb. While the word is that Ms Robb had only a short time to run in her contract anyway, I doubt that many people at the ABC — in Melbourne anyway — hadn't just assumed a renewal was a formality, on both sides. Add to all of that openly unhappy crews and the rub-off effect on cast, and you have a picture which is not very pretty at all."
Program Highlights (Melbourne, December 11-17):
Saturday: Children's program Debate (7am, Ten) discusses the topic 'Sydney Should Be The Capital Of Australia'. New Faces With Bert Newton (5.30pm, Ten) presents its series grand final.
Sunday: Sunday night movies are Moonstruck (Seven), Honkytonk Man (Nine) and The Golden Child (Ten).
Monday: The Price Is Right (7pm, Nine) debuts with host Larry Emdur (pictured with model Ann-Maree Cooksley). Healthy Wealthy And Wise (7.30pm, Ten) presents its final show for the year from tropical Port Douglas.
Tuesday: The Benson And Hedges World Series Cricket — Australia versus South Africa — is live from the Sydney Cricket Ground (2.20pm to 6pm, then 7pm to 10pm, Nine).
Wednesday: Youth Express (8pm, SBS) explores the seldom-discussed topic of incest when it discusses the issue with two survivors of sexual abuse inflicted in them as teenagers by their fathers. Our House (7.30pm, Nine), The Movie Show (7.30pm, SBS) and Looking Good (8pm, Nine) present their last shows for the year.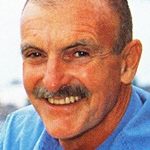 Thursday: In Neighbours (6.30pm, Ten), Lou (Tom Oliver) schemes to win Cheryl's (Caroline Gillmer) affection, although she has decided she is not ready to go into a relationship. In Beyond 2000 (7.30pm, Ten), Iain Finlay (pictured) looks at a voice activated VCR remote control unit.
Friday: Jimmy Barnes — Flesh And Wood (7pm, Seven) features Jimmy Barnes live in concert performing tracks from his new album, including guest appearances by Diesel, Deborah Conway, Archie Roach, The Bad Loves, Tommy Emmanuel, Ross Wilson and The Jimmy Barnes Band. Through Australian Eyes (8pm, SBS) looks at match-making in the '90s, featuring a group of women who placed ads in the personal column of a newspaper.
Source: TV Week (Melbourne edition), incorporating TV Times and TV Guide. 11 December 1993. Southdown Press