The phase out of analogue television across the country continues, with Tasmania becoming digital-only as of today, bringing to an end over 50 years of analogue television in the state.
The shutdown will affect statewide transmissions of ABC1, Southern Cross Television (TNT), WIN (TVT) and SBS1 — although some localities have already made the full switch to digital including Bicheno, Rosebery, King Island, Swansea, Dover South and Tullah.
Television started in Tasmania with Hobart's TVT6 making its debut in May 1960, followed by ABC's ABT2 in June.  TV extended to northern Tasmania in May 1962 with the launch of TNT9, followed by ABNT3.
SBS expanded into Tasmania with its launch in Hobart in March 1986.
The 1980s saw TNT9 and TVT6 come under common ownership, leading to both channels adopting a uniform program schedule and identity — Tas TV.
By 1988 the upcoming advent of aggregation led to TNT9 being split from the Tas TV group and acquired by Southern Cross Broadcasting, a predecessor to today's Southern Cross Austereo.  TNT9 was subsequently re-badged Southern Cross Network in 1989.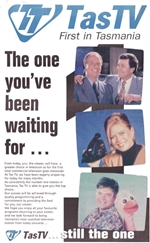 Aggregation arrived in Tasmania in April 1994, with Tas TV and Southern Cross each expanding statewide — Tas TV operating as a Nine Network outlet and Southern Cross presenting a combined Seven/Ten schedule.  Tas TV became a branch of the WIN television network later in 1994.
Digital television arrived in Tasmania in the early 2000s and in 2004, Tasmania became the first market to be assigned a 'Section 38B' commercial licence.  This meant the existing two broadcasters — WIN and Southern Cross — could jointly launch a third commercial network in their licence area.  The new channel, launched on 1 January 2004, was Tasmanian Digital Television (TDT).  TDT, presenting largely a Network Ten affiliate, was the first commercial digital-only TV station in Australia and similar 'Section 38B' licences would later be adopted in Darwin, Mildura, regional WA and central and remote Australia as a means of offering a third commercial network to viewers in markets of smaller populations.
The advent of TDT provided a much-needed boost to the number of households converted to digital television.  According to the first Digital Tracker survey, January to March 2009, Tasmania had the third highest rate of digital conversion in the country.  (Mildura and Darwin, markets also with '38B' licences, were first and second respectively)
Tasmania, a market of 515,000 viewers, now receives the full suite of digital channels equivalent to those in the mainland capital cities.
In the latest Digital Tracker survey, October to December 2012, it is estimated that 92% of Tasmanian households have converted to digital TV.
The next market to convert to digital-only TV will be Perth on 16 April.