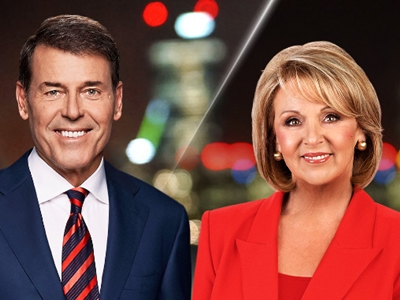 They may not be household names through much of Australia, but Rick Ardon and Susannah Carr, Seven's newsreading team in Perth have long thought to have set a record for longest-serving newsreading team in the world.
They read their first bulletin together for what was then Seven National News in 1985 and last week celebrated their 37th anniversary on air together. It is estimated that they have presented around 8000 news bulletins together.
Now, the Guinness Book of World Records has made it official and confirmed the Perth newsreaders as the world's longest-serving TV news anchor duo. Their record surpasses the 32-year run of American NBC anchors Chuck Scarborough and Sue Simmons that ended in 2012.
Ardon, formerly a print media reporter, had been a reporter and news presenter at Seven since 1978. Carr had been working at the ABC, and was its first female television newsreader in WA, before joining Seven.
Both have won Logies for their popularity with Western Australian viewers, and Seven News has long been the dominant news service in Perth, winning the 6.00pm timeslot every week since OzTAM ratings began in 2001
Their longevity together is in contrast to their rivals at Nine, which has had an ever-changing newsreading line-up as it plays second fiddle to Seven in the local ratings. Offers for the pair to move across to Nine have been refused.

YouTube: 7NEWS Vault
Both have been involved in news coverage for the wider Seven Network. Carr was in London to cover the funeral of Princess Diana in 1997 and more recently was a news anchor for Seven's coverage of the Lindt Cafe siege when Seven's Sydney studios were forced offline. Ardon has recently covered the search for missing Malaysian Airlines flight MH370.
Seven West Media WA chief executive Maryna Fewster paid tribute to the pair's achievement: "There are West Australians who can't remember a time that Rick and Susannah weren't bringing them their nightly news. That relationship with our viewers is invaluable. I congratulate them on their well-deserved recognition and join with the wider Seven West Media team and broader community in celebrating their continued success."
Source: Perth Now, The West Australian, Guinness World Records