For over 30 years it's been one of Australia's most successful cultural exports, but now Neighbours' future in its biggest overseas market is in a precarious situation.
The show's UK broadcaster Channel 5 had been negotiating a contract renewal with production company FremantleMedia.
Those negotiations have stalled amid reports that Channel 5's new owner, American company Viacom, is refusing to sign off on the finances — presumably "not understanding the cultural importance of the show in the UK," according to the reports.
The United Kingdom represents Neighbours' largest fan base, much higher than in Australia. Any outcome — such as the series not being renewed by Channel 5 or picked up by another network — that would see it taken off screens in the UK could effect its sustainability in Australia, where it is showing to a fraction of the audience on secondary channel Eleven.
Neighbours made its UK debut in 1986 on BBC1. It was initially tucked away in a lunchtime slot but its eventual move to early evening saw it become one of the nation's top rating shows — even knocking local favourites Coronation Street and EastEnders from top spot.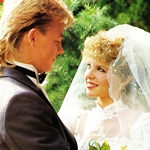 At its peak in popularity back in the days of teen sweethearts Scott and Charlene (pictured), it was watched by around 20 million Brits daily. Cast members became regulars on the Christmas pantomime circuit and also performed for royalty.
BBC ended up reluctantly letting the show go in 2008 after FremantleMedia demanded a significant increase to renew rights to the series. Channel 5, which at the time was owned by the same company as FremantleMedia, picked it up and paired Neighbours with fellow Aussie import Home And Away.
Neighbours currently airs around 4 times a day across Channel 5 and its associated multi-channels. Since last year, episodes have been screening in the UK on the same day as they air in Australia.
Fans have set up a petition at Change.org to help keep the show on UK screens.
Source: The Guardian, Change.org, Mirror