Today (Tuesday) marks the 155th running of the Melbourne Cup — one of the world's most famous Thoroughbred horse races. Thousands will be at Flemington Racecourse to witness the 'race that stops a nation', while millions will be watching on television across Australia and around the world.
Flashback to 1978… and it was a significant year for the Melbourne Cup. It was the first time that the race was allowed to be telecast live within its home state of Victoria. Up until then Victorians could only see the race on TV via filmed replays later in the day. It was also the first time that exclusive telecast rights to the Melbourne Cup Carnival had been granted to the 0-10 Network through Melbourne's ATV0, although rival network stations outside of Victoria had limited access to 0-10's live coverage. (In Sydney, for instance, all four local channels broadcast the Melbourne Cup race live)
The 1978 coverage, fronted by Michael Schildberger, involved 13 cameras situated at various points around the grandstand and the track at Flemington Racecourse. Hand-held cameras also took viewers closer to the action.
Calling the races for the live coverage was Clem Dimsey, with analysis from Phil Gibbs and Ted Ryan. Special guests on the day included Australian-born Marilyn Monroe look-a-like Linda Kerridge, flying in from Los Angeles, and former Australian journalist Lyndall Hobbs, returning home from London.
Of course the Melbourne Cup is as much about the fashions on the field as it is about the horse race itself. TV Week's Melbourne Cup preview of 1978 featured celebrities from all three commercial networks: Lorraine Bayly and Vikki Hammond from The Sullivans; Lynda Stoner, Paula Duncan and Joanna Lockwood from Cop Shop; Julieanne Newbould and Sue Smithers from The Restless Years; and Monique Daams from The Daryl And Ossie Show.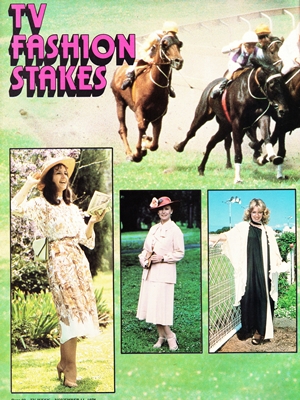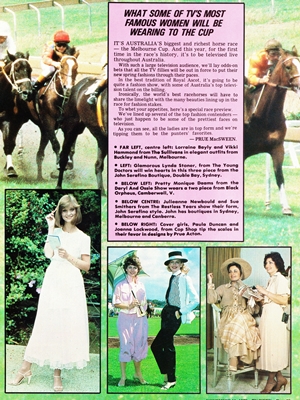 TV Times' preview featured Cop Shop stars Rowena Wallace, George Mallaby and Jo-Anne Moore:
The 2015 Melbourne Cup Carnival — Emirates Melbourne Cup Day.  Tuesday 3 November, 10.00am (AEDST), Seven (check local guides).
Source: TV Times, 4 November 1978. TV Week, 11 November 1978. Sydney Morning Herald, 6 November 1978.