A host of fun!
All Together Now star Steven Jacobs will be joining Jo Beth Taylor to co-host a special edition of Australia's Funniest Home Video Show, with the show featuring some of his own bloopers from All Together Now. With production of All Together Now said to be winding up Jacobs is looking for a new gig whether it be hosting or acting. He is currently presenting a Saturday morning radio show that is broadcast across the country and last year co-hosted the short-lived Nine Network show Saturday At Rick's. "Hosting, I got a buzz out of Saturday At Rick's because it was live TV — that was great," he told TV Week. "It's more of a challenge because people have to like you.  You can't hide behind anything."
Hats off to Molly
Hey Hey It's Saturday's Ian 'Molly' Meldrum (pictured) has recently been honoured for his contribution to the music industry with a special achievement award by the Australian Record Industry Association (ARIA), presented to him at the recent ARIA Awards.  It is only the second time ever that ARIA has made such an award.  Although he is best known for his role as host and talent co-ordinator for Countdown, which ran from 1974 to 1987, his career in the industry dated back almost a decade earlier with appearances in pop music shows Kommotion and Uptight and writing for Go Set magazine.  Since 1975 he had been TV Week's own pop music columnist and has recently started up his own record label, Melodian.  Former Countdown producer Michael Shrimpton paid tribute to Meldrum's achievement:  "He is the most extraordinary one-off personality.  He has no standard way of approaching anything.  But what he does have is an incredible dedication to, and love of, music.  His childlike enthusiasm just sweeps everything aside."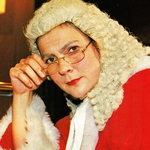 Here comes the judge
Fast Forward star Marg Downey leads the cast of comedians to feature in the upcoming Seven Network comedy special Fast Forward's Royal Commission Into The Australian Economy.  Downey plays the part of Dame Victoria Market (pictured), the judge presiding over the commission.  Also starring in the special are Jane Turner, Steve Blackburn, Glenn Robbins, Gerry Connolly, Michael Veitch, Magda Szubanski, Geoff Brooks, Gina Riley and Frank Gallacher.  For Downey the role of Dame Victoria presented a welcome change to the normal pace of one-minute sketches that Fast Forward churned through.  "It was nice to have a good, old, solid script to get your teeth into," she said.  "It's a great role, a really good example of John Clarke's writing."
Briefly…
It appears that Nine's sitcom My Two Wives is not going to be renewed for a second series — and that All Together Now is set to wrap up production for good over the next few months.
Former Home And Away star Rebekah Elmaloglou has signed up for a two-week guest role in A Country Practice.
Following recent reports of the legal battle between Seven and Nine over the services of Tracey Curro, it looks like Beyond 2000 has had to concede defeat and has put the call out for a new female reporter to take her place.
Annie Jones is looking forward to returning to the Seven Network studios for a second series of Newlyweds, set to go into production late in May.  This follows her work on the Nine Network's Snowy drama series, where she is playing the part of a Hungarian immigrant — a role that has personal significance as she is the daughter of Hungarian parents who settled in Australia in the 1950s.
Jake Blundell (pictured), son of Alvin Purple star Graeme Blundell, has followed his father into acting.  The 18-year-old has already done some commercial work and has scored a role in the upcoming ABC-BBC co-production Dallas Dolls.  However, the young Blundell has confessed to have never seen his father in the role that made him famous.  "Alvin Purple was made before I was even born.  I was probably sheltered from it, but now I'm at the age when I'll probably appreciate it," he said.
Lawrie Masterson: The View From Here
"The future of the ARIA Awards as a fully produced television special must be in serious doubt.  Despite that fact that some of the big names in Australian music participated in this year's show — the second to be televised — the lukewarm ratings have left a bitter taste in the mouths of executives at the Nine Network."
Program Highlights (Melbourne, May 2-8):
Sunday:  Sunday night movies are My Left Foot (Nine) and Dying Young (Ten) up against the debut of two-part mini-series Jewels (Seven).  Compass (10.30pm, ABC) looks at the topic of euthanasia.
Monday:  Ken Sutcliffe hosts live coverage of the rugby league State Of Origin — New South Wales versus Queensland — from Lang Park, Brisbane (8pm, Nine).
Tuesday:  In All Together Now (8pm, Nine), when Tracy (Rebecca Gibney) goes away, Thomas (Steven Jacobs) arranges for his maths teacher's wacky sister (Alison Whyte) to move in as a housekeeper.  Vince Colosimo guest stars in Law Of The Land (9.30pm, Nine).
Wednesday:  In Newlyweds (8pm, Seven), Peter (Chris Gabardi) is seen in a compromising situation with an attractive jeweller while buying a ring for wife Allie's (Annie Jones) birthday.  The Australian economy comes under the scrutiny of the team from Fast Forward in the two-hour special A Royal Commission Into The Australian Economy (8.30pm, Seven).
Thursday:  In Getaway (7.30pm, Nine), Law Of The Land star Debbie Byrne and her husband, actor Neil Melville take viewers on a tour of their lodge and farm in Apollo Bay, Victoria.
Friday:  In Neighbours (6.30pm, Ten), Lou (Tom Oliver) makes a shock discovery when he finds a pregnancy testing kit belonging to daughter Lauren (Sarah Vandenbergh), and Russell (Stephen Whittaker) starts to show his true colours.
Saturday:  In a special Saturday night screening of The Great Outdoors (7.30pm, Seven), Bridget Adams discovers fish feeding an unusual tourist attraction in Darwin, and Penny Cook visits Wentworth Falls in the Blue Mountains.
Source: TV Week (Melbourne edition), incorporating TV Times and TV Guide. 1 May 1993.  Southdown Press.