Georgie Parker: A brilliant success in trying times!
On the eve of the opening night for stage musical How To Succeed In Business Without Really Trying, former A Country Practice star Georgie Parker (pictured) says it's not possible.  "The title is not true!," she told TV Week.  "I think a musical performance is the hardest of all.  Straight drama is tiring mentally, because of the concentration aspect.  With a musical, it's physical and drama — much more demanding."  How To Succeed In Business Without Really Trying, which also stars Tom Burlinson, June Bronhill, Noel Ferrier, Johnny Lockwood and Bruce Spence, comes after Parker's disappointment at the abrupt cancellation of stage musical Gypsy, but the setback of that led to her doing more TV work such as her recent stint in Acropolis Now.
Is Ramsay Street ready for this?
Neighbours newcomer Kimberley Davies (pictured) has worked all over the world as a model for magazines and television commercials, but she says her new address in Ramsay Street, where she will move in as flirty hairdresser Annalise Hartman, is where she'd rather be.  The 19-year-old knocked back roles in Ben Elton's Stark and Network Ten's proposed new series City High to join Neighbours.  "I chose Neighbours because it is doing well overseas and it is one of the longest-running shows on television.  I thought I would get more experience," she told TV Week.  As for her character, Annalise is a social butterfly with a penchant for men, and age is no barrier as she causes a stir befriending Lou Carpenter (Tom Oliver).  "She's a bit naughty," Davies said.
Sylvania Waters calmed
It seemed like a good idea at the time, but ABC's controversial Sylvania Waters nearly tore apart the family at the centre of the program — but family matriarch Noeline Donaher (pictured) believes the worst is behind them now.  "I think the rift in the family has now been repaired… and there was quite a rift," she told TV Week.  "Poor (husband) Laurie, he must have felt as though everyone had everything to say about him, but that's been repaired now.  It wasn't easy, but we're back together again."  And as Sylvania Waters is about to debut on New Zealand television, Donaher is releasing a book about the Sylvania Waters experience. "The book will clear up a few things that happened in this past 12 months of my life," she said.
Briefly…
A Country Practice's newest cast member Allan Penney is amused to be surrounded by so many women.  The 70-year-old, who has just joined the series as a regular after previous guest appearances, is finding his character Perce Hudson being pursued by Pearl (Mitch Matthews) and Esme (Joyce Jacobs).  At the same time he is having to deal with 'ratbag' daughter Bernice (Judith McGrath) and teenage grand-daughter Darcy (Kym Wilson).  "They're all lovely ladies," he told TV Week.  "If I was asked which of the ladies would rate highest with me, I think McGrath has a slight edge — probably because I've so much conflict with her in the role.  Apart from that, she's a fine lady."
Actor David Roberts has scored the lead role in Nine's new drama series Law Of The Land.  A graduate of the Victorian College Of The Arts, Roberts has previously appeared in Phoenix, Chances and ABC's upcoming series Seven Deadly Sins.  In Law Of The Land he plays a young magistrate who has escaped the city for a "quiet" rural life.
Australia's Funniest Home Video Show host Lisa Patrick (pictured) has quit the show after a year with plans to pursue other interests.  "I'm very grateful to the public who have supported me and I had a wonderful year at Nine," she told TV Week.  As for a replacement, Sydney radio man Doug Mulray, who hosted the infamous adults-only spin-off Australia's Naughtiest Home Videos, has knocked back an offer to replace Patrick on the family-friendly version.
Four Corners reporter Neil Mercer is moving to the Seven Network to work on the network's proposed Sunday night current affairs program, tentatively titled Seven Days.  Also set to be involved in the new program is Eleven AM showbiz reporter Basia Bonkowski.
Lawrie Masterson: The View From Here:
"As you can see from the cover shot, the 1993 model Georgie Parker looks a real picture, if you'll pardon the fairly terrible pun.  She seems happy, relaxed and absolutely glowing… probably everything one shouldn't be on the eve of opening in a new musical!  Of course, she will be hoping for a long run as part of the star-studded cast of How To Succeed In Business Without Really Trying, which hits the stage in Sydney this week, but it must be comforting to know that television will welcome her back with open arms, probably any time."
Program Highlights (Melbourne/Regional Victoria, January 10-16):
Sunday:  Daytime sport includes tennis (Danone Australian Women's And Men's Hardcourt Championships from Adelaide and Brisbane) on Seven/Prime and cricket (World Series Cricket from Brisbane) on Nine/VIC TV.  Sunday night movies are Target (Seven/Prime), A Pair Of Aces (Nine/VIC TV) and Silverado (Ten/Southern Cross Network).
Monday:  Two years after walking away from Sale Of The Century, Tony Barber returns to TV as host of Jeopardy, debuting on Ten/SCN (except in Bendigo/Gippsland where local news airs instead) at 6.00pm.  In the new year return of Neighbours (6.30pm, Ten/SCN), Phoebe's (Simone Robertson) new baby faces a major crisis.  In the series return of Home And Away (7.00pm, Seven/Prime), Shane (Dieter Brummer) faces the grim realities of life on the inside.
Tuesday:  World Series Cricket moves to the Melbourne Cricket Ground, with limited coverage on Nine (2.20pm to 4.30pm with a one-hour highlights package after midnight) but the full day/night's play broadcast on regional VIC TV.  Seven/Prime's tennis coverage moves to Sydney with the NSW Open from White City.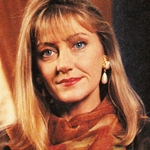 Wednesday:  Former Skyways and Prisoner star Tina Bursill (pictured) guest stars in Cluedo (7.30pm, Nine/VIC TV) as Billie Lovett, a Paris-trained chef who is also outspoken, a heavy drinker and a man-eater.  Seven/Prime has more tennis with NSW Open from Sydney during the day, and the Rio International Challenge from Adelaide in the evening.  In the final episode of A Life (9.45pm, ABC), Sir Sidney Nolan talks to host Peter Ross about his self-realisation as an artist during his days as a soldier in Victoria.
Thursday:  More cricket with World Series Cricket (2.20pm, Nine/VIC TV) from the Sydney Cricket Ground — and more tennis during the day (NSW Open) and evening (Rio International Challenge) on Seven/Prime.  In Hard Copy (9.30pm, Ten/SCN), Gordon Elliott visits Elton John's new home in the US.
Friday:  Today's US talk show topics are 'Men Who Hate Female Freeloaders' (Sally Jessy Raphael, 11.00am, Ten/SCN), 'Son Finds Long Lost Dad Is A Crook And Sends Him To Jail' (Donahue, 1.30pm, Ten/SCN) and 'Confronting Your Tabloid Snitch' (Oprah Winfrey, 2.30pm, Ten/SCN).
Saturday:  Nine/VIC TV crosses to the Sydney Cricket Ground for the First Final of World Series Cricket – 2.20pm to 6.00pm, then 6.30pm to 10.30pm.
Source: TV Week (Victoria Country edition), incorporating TV Times and TV Guide.  9 January 1993.  Southdown Press